The path to financial success always leads to the top. With a little hard work, perseverance, and due diligence, there will always be room for success. And no, it isn't too good to be true! Whether you want to get out of debt or amass enough venture capital to start your own business, here are some tips that could help you make $500 a day.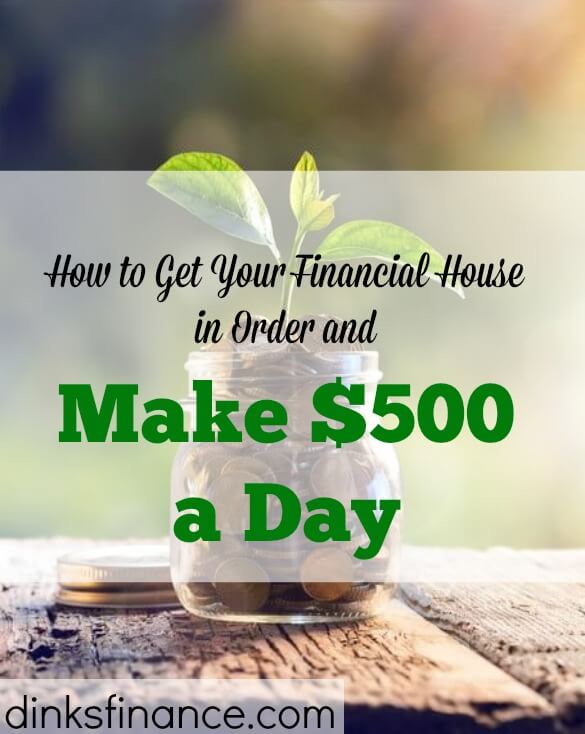 First things first, if your financial house isn't in order, earning a ton of extra money won't help. You will want to get the basics nailed down to make your extra earnings count. Here are some
basics
you should consider:
1. Keep tabs on your interest rate – About 70% of Americans have at least one credit card. This means that if you've amassed any type of debt on your credit cards, it's vital you pay attention to each interest rate individually. This way you can make informed decisions on which debt or savings commitments you should focus on first.
2.Budget and track your net worth – The process of setting a budget and monitoring your wealth is important for tracking your progress.  If you don't have a budget and you aren't tracking your wealth build up, it's important to know if you're making progress or where you can cut if you aren't.  In other words, don't fly blind.
3. Use only cash – It can be hard to keep to your budget, so one thing we recommend is only using cash for all your expenses. Sticking to a cash-only budget is the best way to prevent overspending and debt buildup.
4. Create a financial vision board – Pretty much, you need to set goals.  Where do you want to be next year, in five years, or in a decade? The key to saving money is to have solid, concrete goals that will motivate you. Plus, it serves as a constant reminder to help you stay on track with your goals.
Four Ways To Make $500 A Day
With these four financial nuggets in mind, you'll be on the right track to start earning money right away. Here are some things you can do to make $500 a day. These ideas are pretty well-known, so they are worth repeating here.
Consider Tutoring
The best part about tutoring is that you don't have to be licensed. All you need to do is pick a subject you excel in, post some ads on social media and Craigslist, and wait for the phone to ring. What's better is that there is a need for tutoring in almost every field, from math and English to social media marketing for business owners or SAT prep. Demand is especially strong if you have a specialized skill, like advanced programming or calculus, that you can teach – in this case you could easily charge $50 an hour, and if you pulled a ten hour day, or a long weekend – you'd make $500.00.
Look for Surveys
There are a lot of survey sites out there that will offer you money right away, but we caution you to use discretion when you choose one. Considering that 94% of people cited a site's web design as the primary reason they rejected or mistrusted a website, use your gut when it comes to choosing a reputable source. It is challenging to make $500 a day if you are a Joe or Jane average, however, people in the high-level professional jobs such as physicians or corporate leaders have been known to receive a $500 payment for completing surveys.
Drive Around in your Spare Time
Instead of sitting around your house on the couch all day, get paid to do something you are already doing every day, driving. There are plenty of different drive sharing apps that you can sign up for and they offer flexible hours meaning you only work when it's convenient for you. Obviously, services like Uber and Lyft are good places to start – they have lower barriers to entry and accommodate part-time workers.
How can you make $500 a day doing this? Well, full-time drivers can earn that much in day or over a long weekend.
Invest in Stocks
Five hundred dollars is actually only modest profit in the stock market. Depending on the amount of money you have invested and your risk tolerance, it's entirely possible to earn $500 a day. For example, let's say you own 500 shares of Exxon Mobil (ticker symbol: XOM), and the stock gains a dollar a share in price in a day, then you've made a cool $500. The stock market isn't easy money though, you need to pay taxes on your gains, the chances of loss are high and you'll need to wait a couple of days for your trade to settle to get your money.
Be a Mystery Shopper
Plenty of retail stores are looking for ways to boost their in-house sales considering the rise of online shopping. More and more stores are getting competitive, since an estimated 75% of search engine users never click past the first page, and are focusing their efforts on their brick and mortar stores. That means they're looking for people to secret shop in their stores in an effort pinpoint what exactly they need to work on, whether it be customer service or advertising. You'll be paid to shop in stores you love and report back your experiences. A lot of the payouts for mystery shopping tend to be pretty small, so you'd need to find some high-value mystery shopping gigs to make it worthwhile.
No matter what techniques you use, it is important to understand that it does take some patience to really see the big bucks come in. But as long as you stay diligent and look at your money-making efforts like a second job, you'll eventually reach your financial goals.