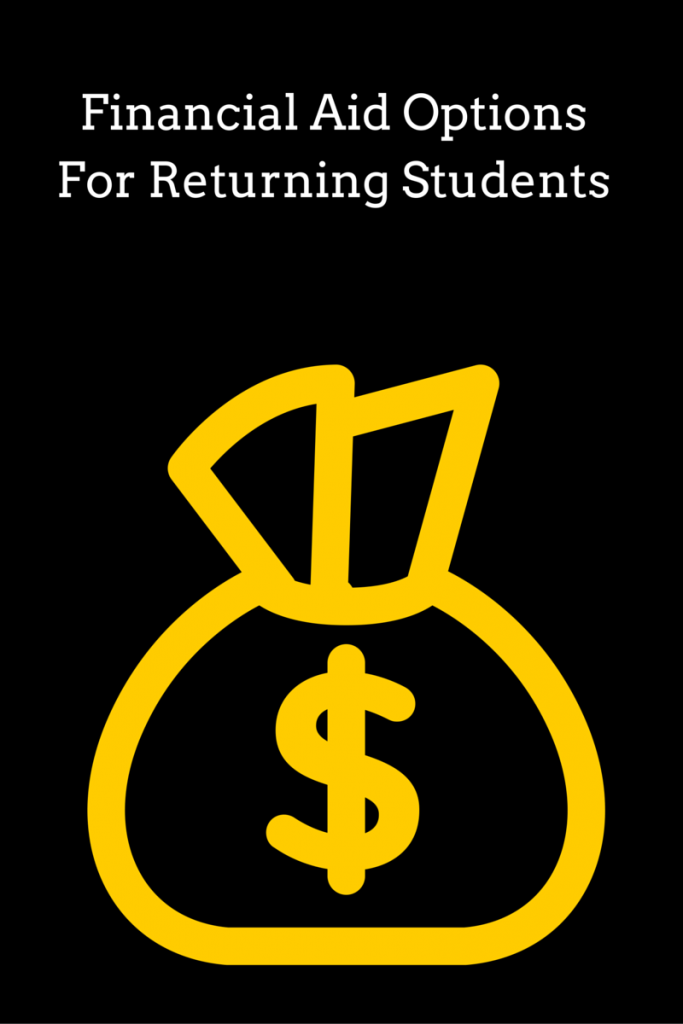 A lot of people are going back to school in their late 20's and early 30's. They have lived life a bit and now realize that they need to either finish their Bachelor's or pursue a Master's Degree so that their career can get to the next level. Some of these people may not know or remember the type of financial aid that is available for them. Today, I want to go over several types of financial aid options that may be available for those returning students.
Pell Grant
The Pell Grant is free money that doesn't have to be paid back. You can only receive the Pell Grant if you have not earned your Bachelor's degree yet. The amount of Pell Grant that you can receive depends on your financial need, whether you're a full-time or part-time student and your cost of attendance.
Federal Direct Loans
A lot of students qualify for some Federal Direct loans when they return to school. There are three types that I will be discussing.
Direct Subsidized Loans
The students with the lowest EFC score are awarded these types of loans. They are available for undergrad students. The US Department of Education pays the interest on them while you're in school and for the first six months after you leave school. They also pay the interest for you during a period of deferment.
Direct Unsubsidized Loans
Unsubsidized loans are available for undergrad grad students regardless of need. The main difference with the unsubsidized loans is that they do charge interest on those loans while you are in school. You don't have to make a payment until the loans enter repayment.
Direct Plus Loans
Graduate or Professional students can apply for a Plus loan. The Plus loan is credit based meaning that if your credit is bad, you will probably get denied. If you are approved for the Plus loan, you will receive an interest rate that is lower than the subsidized and unsubsidized loans.
The Federal Perkins Loan
The Perkins Loans is a low-interest loan for undergrad and graduate students. This loan is for students that show exceptional financial need. Every college doesn't participate in the Perkins Loan program. Make sure that you check with the schools financial aid office if you need it.
Private Student Loan
Another option for funding is to look for a private student loan. Private loans are based on your credit. You also have to choose the lender on your own. The school that you are attending isn't supposed to tell you exactly which lender to choose. They can give you suggestions, though. A good place to start your private loan search is with a bank or a credit union. The fees with the private loans will be different per lender. The interest rate will be different as well. Make sure you do your research and find the best private loan that suits your needs.
Scholarships
The last option for financial aid is scholarships. Free money is always good. Different colleges offer various types of scholarships. To figure out what scholarships your school offers you should check with their financial aid office. There are also websites that you can search for scholarships such as Fastweb and Scholarships.com.
Get Your FREE Ebook
DINKS (Dual Income No Kids) Finance focuses on personal finance for couples. While by no means financial experts, we strive to provide readers with new, innovative ways of thinking about finance. Sign up now to get our ebook, "Making Money Tips for Couples" FREE.