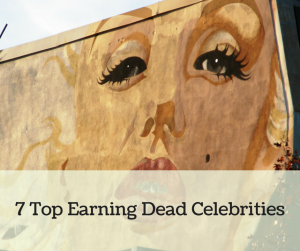 Good morning Dinks! Most celebrities have a ton of fans before they pass away.  For some, that number seems to double once they leave this planet. I researched seven different people that were famous for various reasons. I was shocked to see how much some of them made in 2015. These next seven celebrities that I am about to talk about are earning millions, even though they are no longer with us.
Michael Jackson
Michael Jackson was one of the best performers of all time. He started his career with the Jackson 5 and then continued to have a very successful solo career. He released several classic albums such as Thriller, Bad, and my personal favorite, Off the Wall. The King of Pop passed away in 2009. He made $115 million dollars last year. That's incredible! His music sales, publishing empire and Las Vegas show are a few of the things that are generating that money. His money goes to his mother and his children.
Elvis Presley
Elvis Presley is referred to as the King of Rock and Roll. He earned $55 million last year. The majority of that was due to ticket sales to tour his Graceland estate. He is also still making money off of his discography. He recorded over 70 albums. That money goes to Elvis Presley Enterprises.
Elizabeth Taylor
Elizabeth Taylor was an actress, humanitarian and businesswoman.  She passed away in 2011. She made $20 million in 2015.  Her "White Diamonds" perfume still generates a lot of money for her. She also receives royalties from her movie roles. Her estate receives all of that money.
Bob Marley
Bob Marley was a Jamaican reggae singer. He was one of the world's best-selling artists. Besides his albums, The Marley Beverage group and House of Marley, which create audio and lifestyle products, have helped him earn $21 million last year. That is a lot of money for someone that passed away 35 years ago. His former and children share his estate.
Marilyn Monroe
The next celebrity on this list is Marilyn Monroe. She was and American actress and model. She was one of the most famous sex symbols back in the 1950's. She earned $17 million last year through licensing deals. Authentic Brands Group handles her estate.
Frank Sinatra
Frank Sinatra was an American singer and actor. "Old blue eyes," as he was called, was one of the most influential artists of the 20th century. Sinatra made a little under $12 million with album sales, sponsorships, and endorsements in 2015. Sinatra's family runs his estate.
John Lennon
John Lennon was one fourth of the Beatles. The Beatles were the most commercially successful band in the history of music. Lennon earned $12 million in 2015 with the help of royalties and licensing deals. Lennon's wife, Yoko Uno is the sole executor of John Lennon's estate.
Andy Warhol
Andy Warhol was an American artist. He was a key figure in the pop art revolution. Warhol was also a filmmaker and an artist. He earned $6 million in 2015 through licensing and advertising. Warhol passed in 1987.
This brief list shows that even in death some celebrities are still making big money. Some have even made more money in death than they did when they were alive. It's truly amazing that some of them are earning that much money.
Did anyone on this list surprise you? What other deceased celebrities do you think are making a lot of money?
Get Your FREE Ebook
DINKS (Dual Income No Kids) Finance focuses on personal finance for couples. While by no means financial experts, we strive to provide readers with new, innovative ways of thinking about finance. Sign up now to get our ebook, "Making Money Tips for Couples" FREE.