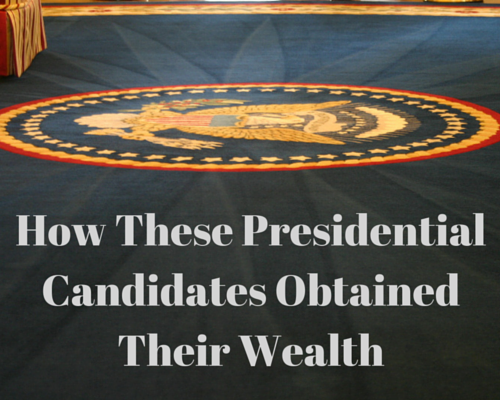 The other week I wrote a post discussing the net worth of several of the 2016 presidential candidates. Today I dig a little deeper. In this post, I plan on explaining a bit more how five of those candidates obtained their wealth. The five people are Hilary Clinton, Bernie Sanders, Donald Trump, Ted Cruz, and John Kasich. As of March 19th, they are still in the presidential race.
Hilary Clinton
As most of you know, Hilary Clinton is married to former President Bill Clinton. In my previous post, I stated that her net worth was approximate $31 million. Most of her earnings came from paid speeches. She has spoken for companies such as Goldman Sachs, The National Council for Behavioral Healthcare, Cisco, and Deutsche Bank AG. Her average booking fee is $200,000. She has also written several books including Living History, which was released in 2003 and Hard Choices which came out in 2014.
Bernie Sanders
Bernie Sanders net worth is estimated to be between $400,000 – $600,000. The majority of his net worth comes from his earnings in politics. Besides being a senator, he's also held positions in the US House of Representatives. He was also the mayor of Burlington, Vermont as well. Sanders also has property in Vermont and Washington D.C. One of the reasons that I think Sanders could pass Hilary in the number of delegates is because he isn't as wealthy as her and some of the other candidates. I think the common person can relate to him a little bit more for that very reason.
John Kasich
John Kasich's net worth is $10 million. He currently is the Governor of Ohio. He makes over $144,000 per year. John Kasich has also been an investment banker.  He was also a managing director at Lehman Brothers from 2001-2008. Kasich also hosted a television show on Fox News titled Heartland with John Kasich. He has authored three books. The titles of the books are Courage is Contagious, Stand for Something: The Battle of America's Soul and Every Other Monday.
Ted Cruz
Ted Cruz has a net worth of $3.5 million. He has attained most of his net worth from being an attorney and a politician. He also taught as an adjunct law professor at the University of Texas School of Law.
Donald Trump
Donald Trump's net worth is estimated to be $4.5 billion. He believes that it is closer to $9 billion. He has made his money as a businessman and also by being a television personality. He hosted the reality TV show The Apprentice from 2004 until 2015. It is also estimated that he received an inheritance worth between $40 million and $200 million from his father's estate. Fred (Trump's father) and his mother Elizabeth (Trumps grandmother) founded a company which would go on to become The Trump Organization. Trump has been in control of the company since 1971. Some of the properties the organization owns are The Trump International Hotel & Tower in Chicago, The Trump Hollywood in Florida, The Trump Intl in Las Vegas, and The Trump SoHo in New York Trump also owned a football team in the now-defunct United States Football League. I can understand why Trump has a following. He's brash, and he has no filter. Whether you like him or not, he is a major player in the presidential race. Do I think he will do a good job if he's elected? Heck no. I honestly still think he's trolling the country. For every success that he's had, there have been almost as many failures. This list shows all of his business failures.
I find it interesting to see how the candidates obtained their worth. Some worked as attorneys and politicians while others were entertainers. It will be interesting to see which one of them will be the next president of the USA.
Did anything in this post surprise you?