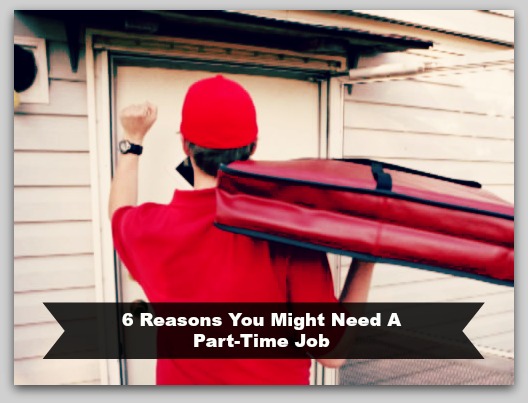 Good morning Dinks. Depending on what your major was in college, the job market could be great for you. You could apply for several good paying jobs and have a great chance of getting hired at one of them. For others, their job market could be oversaturated. They may have to take a job that's not in their field. Once they are in that job they may realize that they need a part-time job. Below I will be going over 6 reasons you might need a part time job.
Not making enough
The 1st reason that you might need a part-time job is because you might not make enough money at your full-time job. People can live on different amounts of money depending on their lifestyles, but if you have more month left than you have cash you have a problem. A part-time job will help you out in this situation.
Tough time paying bills
The second reason that you might need a part-time job is because you have a tough time paying your bills. You don't want to get behind on your payments because that can affect your credit score. Having a part time job will allow you to make some more money that can be applied to those bills. I've worked two part-time jobs in the past to help pay my bills. It's not that bad.
No savings
The third reason to work a part-time job is to help you start a savings account. Everybody needs to have some type of savings. If you're not able to save much money from your full-time gig then a part-time job should be an option for you.
Too much debt
The next reason that you might need a part-time job is to help you pay off your debt. If you have thousands of dollar's worth of student loan debt that you are struggling with, a part-time job can you give you a little relief. You will be able to add that money to your budget and start attacking that debt.
Need spending money
The fifth reason that you might need a part-time job is because you need spending money. If you only make enough money to pay bills and eat that's not good. You have to change your mindset and realize that check to check isn't living. Until you are able to find better full-time work find a part-time gig.
Lessens stress
The final reason that you might need to work a part-time job is because it lessens stress. When you have extra money coming in you tend to worry about certain things less. I used to stress about money quite a bit a few years ago. I would get tension headaches from time to time because I was always wondering if I had enough of it. During that time, I started working a part-time job a few days of the week. I stopped worrying as much because I had extra cash coming in. The headaches also disappeared.
To some getting a part-time job doesn't sound glamorous. It's not supposed to be. It's there to help you out until you get a better full-time gig or until you pay off your debt. The main thing that you should remember is that it's only temporary.
Are there any other reasons you might need to get a part-time job?
Get Your FREE Ebook
DINKS (Dual Income No Kids) Finance focuses on personal finance for couples. While by no means financial experts, we strive to provide readers with new, innovative ways of thinking about finance. Sign up now to get our ebook, "Making Money Tips for Couples" FREE.