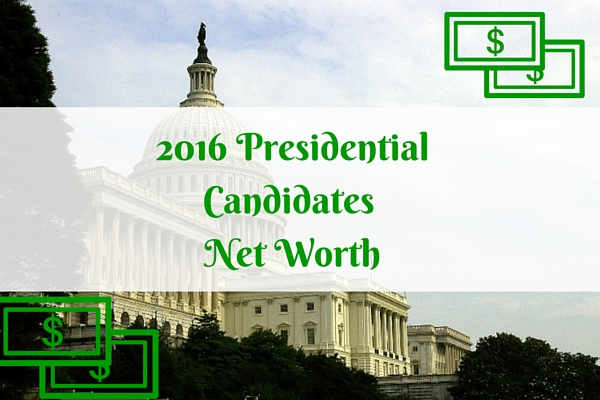 We are in full election mode right now in the United States. The Republican and Democratic hopefuls have been ramping up their efforts by having rallies all over the country hoping that they get their respective parties nominations. Before the candidates decided to run for president, they had different types of jobs and brought in various amounts of money. Today I will be going over some of the candidate's net worth.
Donald Trump
Donald Trump is an American businessman and television personality. He attended Fordham University and the University of Pennsylvania. He is also a real estate mogul. Some of the properties that he's owned over the years are the Trump Tower, Trump Entertainment Resorts, the Trump World Tower and Trump Hotel Las Vegas. He also owns several golf courses in the United States. Donald Trump's net worth is around $4.5 billion. That makes him the richest candidate.
Ted Cruz
Ted Cruz is a junior United States Senator from the State of Texas. He is also an attorney. Ted Cruz attended Princeton University and Harvard Law School His net worth is $3.5 million.
Marco Rubio
Marco Rubio is an attorney and also a junior U.S. Senator from the state of Florida.  He attended several schools including the University of Florida and the University of Miami. Marco Rubio's net worth is between $100,000 – $400,000 depending on the source.
John Kasich
John Kasich is the Governor of Ohio.  He attended Ohio State University. John has worked as an investment banker. He was also a commentator on the Fox News Channel from 2001 to 2007. He hosted the show titled Heartland with John Kasich. His net worth is $10 million.
Carly Fiorina
Carly Fiorina is a former technology business executive.  She attended several schools such as Stanford University and the Massachusetts Institute of Technology. She was the CEO of Hewlett-Packard from 1999 – 2005. Her net worth is $59 million. She suspended her campaign for the Republican nomination in early February.
Ben Carson
Ben Carson is a retired neurosurgeon.  He attended Yale University and the University of Michigan Medical School. He is also an author and philanthropist. His net worth is $10 million. He suspended his campaign for the Republican nomination in early March.
Bernie Sanders
Bernie Sanders is a junior United States Senator from Vermont. Bernie attended Brooklyn College and the University of Chicago. Bernie's net worth is between $400,000 – $600,000.
Hilary Clinton
Hilary Clinton is the former 1st lady of the United States of America. She attended Wellesley College and Yale Law School. Hilary was also the 67th United States Secretary of State. She served that post from 2009 to 2013. Her net worth is approximately $31 million.
Martin O'Malley
Martin O'Malley was the 61st Governor of Maryland. He served from 2007 to 2015. Martin attended The Catholic University of America and the University of Maryland, Baltimore. He was also the Mayor of Baltimore from 1999 to 2007. His net worth is an estimated $250,000.
It's interesting to see the individual net worth for the candidates. As you can see, they have made money in several different ways. You have your attorneys. You have your businessmen and women. Then you also have your lifelong politicians.
Did any of the candidates net worth surprise you?
Get Your FREE Ebook
DINKS (Dual Income No Kids) Finance focuses on personal finance for couples. While by no means financial experts, we strive to provide readers with new, innovative ways of thinking about finance. Sign up now to get our ebook, "Making Money Tips for Couples" FREE.