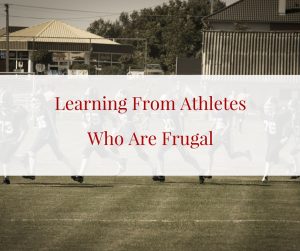 When I was younger I used to watch a lot of TV. On many of the shows people spent a lot of money for no reason. I rarely heard stories of people being frugal or saving money. People would buy things because they felt like they needed it or they were trying to keep up with those darn Joneses. Then the recession happened. People stopped their crazy spending habits and started looking for ways to be frugal.
The recession has been over for a few years now. A lot of folks remember what it did to their income. It affected everyone from teachers to athletes. These days you find more and more people being frugal including athletes. Today, I want to showcase a few athletes that are being frugal with their money.
Rob Gronkowski
Rob Gronkowski is a tight end for the New England Patriots. Over the last 6 years, Gronkowski has made over $11 million in the NFL. He hasn't spent any of that money. Instead, he lives off of money that he's made from endorsements. A few of the companies that he has endorsements with are Dunkin Donuts, Body Armor Super Drink, and Zynga.
Kirk Cousins
Kirk Cousins is the starting quarterback for the Washington Redskins. He is also one of the most frugal players in the NFL. Cousins just finished a four-year rookie contract that paid him a little more than $2.5 million over four years. He still lives a very frugal life even though he's a millionaire. Cousins still drives a 16-year-old GMC Savanna passenger van that he received from his grandparents. He also still wears free clothes that he received when he attended Michigan State University. During his rookie year, a couple of his teammates helped him move into his apartment. He stated that he didn't hire a mover because he was cheap and frugal.
A.J. Francis
A.J. Francis is a defensive tackle for the Seattle Seahawks. He made nearly $500,000 last season but has decided to work as an Uber driver during the offseason. He wanted to supplement his income since he doesn't get paid during the offseason.
Alfred Morris
Alfred Morris is the starting running back for the Washington Redskins. He just finished a 4 year $2.2 million contract, but he still drives a 1991 Mazda 626. He drove his car from Boca Raton, Florida to D.C. after he was drafted to the Redskins. Mazda even refurbished his car for him free of charge because of the positive publicity his story received.
Ryan Broyles
Ryan Broyles is a free agent wide receiver. He previously played for the Detroit Lions. Ryan made over a million dollars in 3 years. He lives like he's only making $60,000 per year. He pays off his credit cards each month. He also doesn't have cable TV.
Ryan Kerrigan
Ryan Kerrigan is an outside linebacker for the Washington Redskins. There must be something good in the water in DC because he is the third Redskin on this list. Kerrigan signed a deal last August that will pay him $57.5 million for 5 years. He still drives a 2011 Chevy Tahoe. Something else that's interesting is that he still has a roommate.