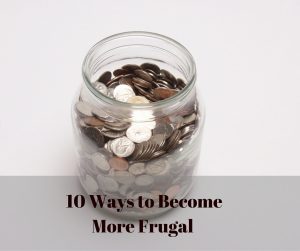 Good Morning Dinks. I hope everything is going well with you. Today, I want to go over 10 ways that will help you become frugal. All of these ideas are things that any person can do.
Buy store brands
The 1st thing on the list is to buy store brands when you are shopping for food. From my experiences store brands are just as good as regular brands. Depending on what the item was I couldn't even taste the difference. Store brands are also cheaper than the name brands too.
Used car
The next thing on my list is to purchase a used car. New cars depreciate by a few hundred dollars once you leave the car lot. A good used car can be just as good as a new one. It is also much cheaper.
Cut cable
Cutting cable is the next way to becoming frugal. A lot of cable bills are over $100 per month. That is too much money to be paying for it. More people are cutting the cord each month as cheaper alternatives continue to present themselves. There are options like Netflix and Hulu. You can also stream shows from the internet as well.
Cut back on going out
By going out less, you can save a couple hundred dollars each month. There are several things that you have to pay for when going out such as drinks, food, and parking. If you go out three times a week and spend $30 each time, that's $90 a week and $360 per month. If you stop going out you could save that extra $360 each month.
Smaller place to live
Number 5 on the list is to find a smaller place to live. In most cases the smaller the apartment or house is the cheaper the rent is.
Cook more
It's no secret that cooking is cheaper than going out. One way to become more frugal is to make your lunch and bring it to work with you every day. This is a practice that I've been doing for the last few years. I can say that I've saved at least a couple hundred dollars by doing this.
Work out at home
Canceling the gym membership and working out at home is another way to become more frugal. Gym memberships can be expensive. If you're not going to the gym at least twice a week that membership could be considered a waste. You should cancel it and exercise at home. Working out at home can be very easy. You can grab some weights and a small mat from your local thrift store and start a workout plan. If weights aren't your thing you can look at hundreds of workout videos on YouTube.
Stop smoking
The 8th way to becoming more frugal is to stop smoking. If you're a smoker you know that your habit isn't cheap. By eliminating the cigarettes, you will save $100 – $200 per month. You will also be healthier.
Use coupons
Using coupons is a very popular thing to do if you're frugal. There are coupons for a lot of items out there these days. It doesn't make sense to pay full price for things anymore. Speaking of paying full price, that leads me to the final way to become frugal on the list.
Negotiate
The final way to become more frugal is to negotiate things. Whether it's the price of your internet service or an item you see at the mall, try to negotiate it. The worse thing that could happen is that they will say no. Closed mouths don't get fed. That's the honest truth.
What are some ways that you are frugal?
Get Your FREE Ebook
DINKS (Dual Income No Kids) Finance focuses on personal finance for couples. While by no means financial experts, we strive to provide readers with new, innovative ways of thinking about finance. Sign up now to get our ebook, "Making Money Tips for Couples" FREE.