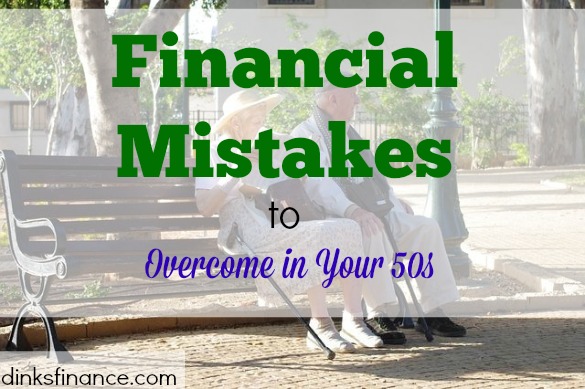 In our 20s we probably aren't overly concerned about retirement because we're busy paying off student loans and starting our lives.  In our 30s we may be up to our necks in debt as we buy our first home and have kids.  In our 40s we may finally start living a happy financial life as we pay down our debt and focus on building wealth.  But what about our 50s?
If all those stereotypes seem pretty normal in the financial lifecycle then our 50s should be a breeze.  We should be debt free, our kids should be educated, we shouldn't have a mortgage and own our home free and clear as well as have stacks of savings built up in multiple accounts.  But what if that isn't the case?!
The days of working at the same job until retirement and staying in the same relationship until death do us part are over.  Nowadays finances in our 50s aren't as sound as they used to be.  With economic struggles, layoffs, divorces and foreclosures the 50-somethings of the world may find themselves in less than perfect situations.  It's O.K. because it seems that it's the new normal.
If you find yourself having money woes in your 50s here's how to ease the financial burden:
Not thinking about your retirement
When you have debt on your mind and a divorce behind you retirement may be the last thing on your mind.  However not planning for retirement is a big mistake that people make in their 50s.  With a little bit of planning and the help of a professional you can achieve multiple goals at the same time – you just need to prioritize.
Keeping credit card debt
Racking up credit card debt later on in life isn't the best financial strategy.  Sometimes we use credit cards out of necessity and sometimes we use them just because they're there.  Using credit cards wisely, spending within a budget and paying off the balance each month is a good financial strategy to keep your credit score up.
However carrying outstanding balances as you transition into retirement is never a good idea because your fixed income may not have the room to afford the monthly payments.
Investments more secure for the income
When you're young you want your investments to grow and therefore can afford to take some risk since you have time to hopefully recover any losses.  However as you approach the age where you need to stop saving and start living off your investments the strategy needs to change.
Talk to your financial advisor about more secure, income bearing investments.  The last thing you want is to see your retirement income disappear with a market downturn.
Learning about government benefits
Retirement doesn't just happen.  There is a lot of planning – both emotionally and financially – that has to be done.  If you're retired or you've seen your parents retire you know that every little bit counts when you're living on a fixed income.
Take advantage of everything you can and learn about both your employer as well as government provided benefits such as health insurance, pensions and Old Age Security.  Who knows, you may be entitled to some extra income to help out during retirement.
Get Your FREE Ebook
DINKS (Dual Income No Kids) Finance focuses on personal finance for couples. While by no means financial experts, we strive to provide readers with new, innovative ways of thinking about finance. Sign up now to get our ebook, "Making Money Tips for Couples" FREE.