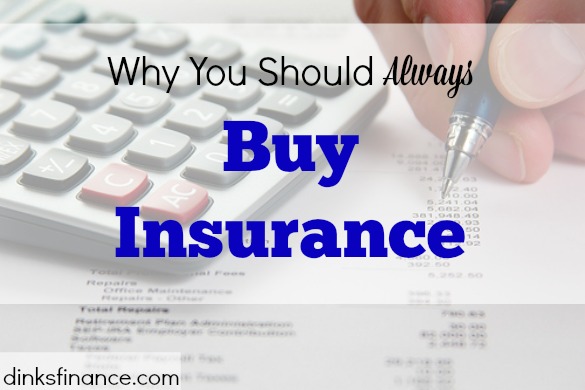 I know a lot of people think buying insurance is for suckers because so often we pay premiums and very rarely cash in on the benefits.  I am not one of those people.  Whenever I hear people say they hate having insurance because they don't reap the rewards I always tell them "Be thankful you've never needed to use your insurance."
Buying insurance, whether it be travel, life, house or car, helps protect us in case an unforeseen event happens.  If you never have to call your insurance company to cash in on an emergency then consider yourself lucky.
I am one of those people who is grateful that insurance exists.  I wouldn't say I have the worst luck in the world, but there have been a handful of times in my life when I was extremely happy I had insurance.
Our rental car was broken in to.
Remember back in July when our car rental was broken in to and all our Best Buy purchases stolen?  Well we just – yes in October – received the $256 refund for the cost of the damage to the rental car and the $310 for all the goods that were stolen.  It took a long time for the claim to be processed but I'm glad we didn't have to pay the $566 out of pocket.
This is a lesson learned to always pay for a car rental with a credit card that has insurance coverage or pay the extra money and take the rental company's insurance.
Our basement flooded.
There is nothing worse than coming home to a basement full of water.  Not only are all your personal belongings destroyed, but so is your living space.  Our basement had over $10,000 in damage and never would we ever been able to pay for that out of pocket without going in to debt.  Once again thank goodness for insurance.
I am sure we weren't refunded for everything because when you're in a moment of distress (like dealing with the loss of half  your home) you can't think clearly.  The insurance adjudicator suggested that we regularly take photos and videos of our belongings for "next time".  Of course we hope there won't be a next time, but you just never know what life has planned.
When our family car was stolen.
One day Nick and I came outside to load boxes into our car and low and behold our car was gone.  To make a long story short it wasn't stolen, it was towed and improperly logged then moved to a storage parking lot without a trace.  However we didn't know that.
We immediately called our insurance company and they started the claim.  If our car was not recovered within 30 days we would have received a brand new car.  At this particular moment I was extremely glad I paid a little extra money for new car replacement insurance instead of just getting the current market value for the car.
We had a Honda Civic and at that time the outstanding loan was more than the car was worth so if we had taken basic car insurance we would have lost our car and still had a loan to pay.  Instead someone figured out where our car was and on the 29th day we picked it up from the impound lot.
Have you ever filed an insurance claim?
Get Your FREE Ebook
DINKS (Dual Income No Kids) Finance focuses on personal finance for couples. While by no means financial experts, we strive to provide readers with new, innovative ways of thinking about finance. Sign up now to get our ebook, "Making Money Tips for Couples" FREE.