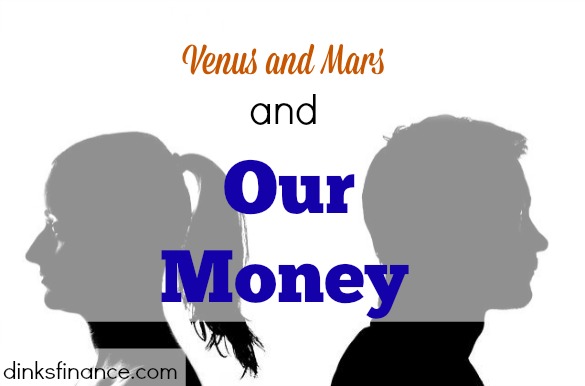 Do you notice a difference between men and women and money?  I know I do.  I think men and women are very different when it comes to almost every aspect of money from saving to spending and investing to splurging.  The question is, how can we live happily ever after if our money habits are so different?
Different management styles
It's very possible that you and your spouse have similar views on money, but manage your cash very differently.  Allow me to explain.  Maybe you both agree that saving for retirement should be a priority, but your spouse is a high risk investor whereas you are risk adverse.
Maybe you and your sweetheart both agree that it's O.K. to splurge every now and then but you want to spend the money on travelling and your spouse wants to go to a concert.  That right there is the difference between men and women when it comes to money.
Set priorities together
Problems arise in a relationship, not because a couple manages their money differently as individuals but when they let the differences affect the marriage.  I always say that it doesn't matter how you make your cash because money can all be spent in the same places.  This is especially true for relationship goals.
If you set financial priorities together it doesn't matter how you achieve your goal, as long as you do it together.  If you see your spouse come home with something that wasn't planned don't be upset they spent the money, but check in on your goals to make sure you're still on the same track.  Who knows, maybe they had some extra cash that month and decided to buy a little treat.  Spending on them self doesn't always equal neglecting joint goals.
How to overcome conflict
My best advice as a girlfriend and as a financial planner on how to overcome money conflicts in a relationship is to communicate.  So many arguments in life and in relationships arise due to lack of communication.  If you plan on spending money or want to add a new goal to your list of priorities just talk about it with your spouse.  It may be awkward and uncomfortable, but it doesn't have to be.
Keep in mind that money only becomes a problem in our relationships if we let it.  When we do see stress start to arise in a couple it's best to talk about it as soon as possible because otherwise a small financial issue can snowball into a big financial problem.
Sometimes goals – both personal, joint and financial – need to be adjusted.  Just think about your goals this year and ask yourself, have they been adjusted?  Are you on track?  The answer may be yes.  So now ask yourself this, if you can adjust your personal goals why can't you adjust your joint couples goals?
A part of being a couple is learning to compromise so talk about it and don't let money be a problem in your relationship.
Get Your FREE Ebook
DINKS (Dual Income No Kids) Finance focuses on personal finance for couples. While by no means financial experts, we strive to provide readers with new, innovative ways of thinking about finance. Sign up now to get our ebook, "Making Money Tips for Couples" FREE.