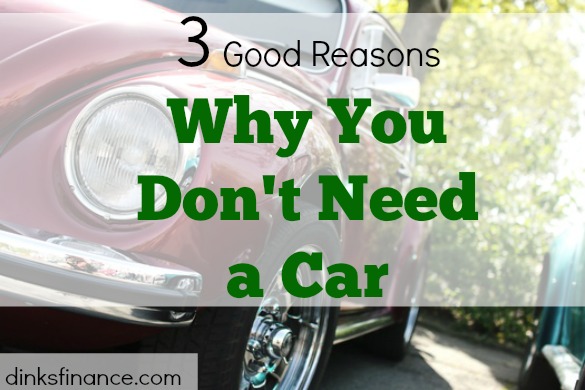 Buying a car is a big expense and owning a car can be extremely convenient. If you're thinking of buying a car you need to ask yourself if the purchase price and ongoing maintenance costs are worth the amount of convenience it will bring.




My friend Diane is a perfect example of someone who pays to have a car, but absolutely doesn't need to. She lives in the middle of downtown so she has plenty of amenities around both her home and office. Diane lives 10 blocks from our office building and she drives to and from work every day. She pays a monthly parking fee both at her condo and at our office. Does that make any sense?
Here are three excuses people use to buy and keep their car:
I have kids. Of course it's a lot more convenient to tote your toddler around in a car than it is on public transportation. It's also a lot easier to have your own transportation when your kids get older and they need to go to soccer practice or dance rehearsal. However there are other options. Parents can set up a car pool or choose activities for their kids that are within walking distance.
We need to buy groceries. Whenever Nick and I rent a car we make it a point to make a trip to the grocery store. It is definitely convenient, but we get by just fine without it. Every Friday we pay $3 to get our groceries delivered and that's a lot less expensive than a monthly car payment.
I have to get to work. It's true that we all need to get to work every morning, but I'm sure you can take public transportation. I walk 35 minutes to and from work every day. The only months I pay for a public transpiration pass are January and February because it's just too cold up here in Canada to walk during the winter.
I don't actually like taking public transportation and I enjoy the time outside getting fresh air. It takes me a bit more time to get to work in the morning, because I could do it in 15 minutes on public transportation, but I choose not to. Driving in traffic is definitely out of the question because that's a waste of both time and money.
The expenses of owning a car can quickly add up each month and now may be a good time to ask yourself if the costs are really worth the convenience.
Try it for a week. Leave your car parked at home and walk or take public transportation to work. Think of all the money you're saving on parking, gas, car washes and other expenses during that week. Isn't that a nice chunk of savings? Now think about not having a car insurance payment or a monthly car payment at all. What would you rather do with that money?
Get Your FREE Ebook
DINKS (Dual Income No Kids) Finance focuses on personal finance for couples. While by no means financial experts, we strive to provide readers with new, innovative ways of thinking about finance. Sign up now to get our ebook, "Making Money Tips for Couples" FREE.