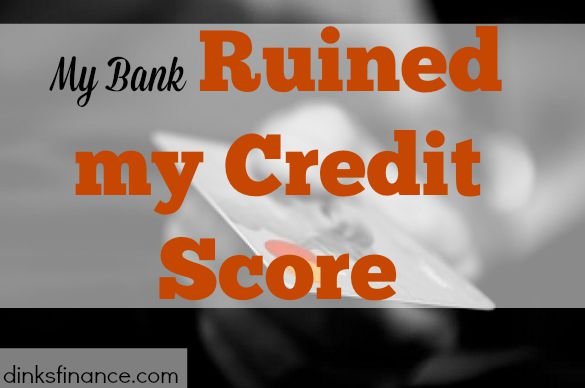 Good morning Dinks.  You aren't going to believe the story I'm about to tell you.  Remember how I was becoming debt free?  Remember how Nick and I were thinking of buying a house?  Remember how I was working on improving my credit score from years of bad credit?  Well all that went out the window yesterday.
I logged into my online banking to verify my accounts and noticed that there was $14 owing on a credit card that had presumably been paid off (Notice I used presumed and not assume).  Since I paid off the balance back in April I haven't logged into the account since and therefore had no idea I was three months behind on the payment.
Should banks look out for your credit score?
I think the answer is yes.  If you have a good credit score you can borrow more money and the more money we borrow the more profit the bank makes.  So yes I think banks should always have our credit scores best interest at heart.  But that's just me.
As I'm writing this my mind is scattering all over the place and my head is filling up with anger.  So if at any point this story doesn't make sense let's just blame it on the rage.  Ok let me reiterate the fact that the $14 is the total balance due, not the minimum payment.
Over the last three months my bank (I should say former bank) has been reporting negativity to the credit bureau for $14.  How is that fair?
Is it my fault?
Of course I don't think so.  Why didn't I get a call after the first month telling me that my account was in arrears.  When I asked the customer service agent they mentioned that collections calls are a courtesy, not standard procedure.  Courtesy.  Are they serious?  If the bank wants their money and they're not getting paid doesn't it seem like common sense to make a quick phone call.  But again maybe that's just me.
I paid off this balance back in April when I received my tax refund.  When I called the customer service number to inquire on the total balance owing they gave me an amount and I paid it in full.  However it turns out that the amount quoted did not take in account accumulated interest from the last statement date.  And there you have it – how I accumulated $14 in interest fees, got three months behind on my credit card payments and ended up ruining my credit score that I spent three years building.
No it's not my fault.
The other two companies who I was paying off gave me the exact balance due as of the day I called – including interest.  For some reason this bank didn't.  They are also not willing to make a correction or contact the credit bureau on my behalf.  Why? Well as the agent told me on the phone "But ma'am you were late so we had to report it."  Worst. Service. Ever.
Needless to say I will not be applying for a mortgage with this company.  This particular instance just reminds me of why they are my former – not my current – bank.
Get Your FREE Ebook
DINKS (Dual Income No Kids) Finance focuses on personal finance for couples. While by no means financial experts, we strive to provide readers with new, innovative ways of thinking about finance. Sign up now to get our ebook, "Making Money Tips for Couples" FREE.