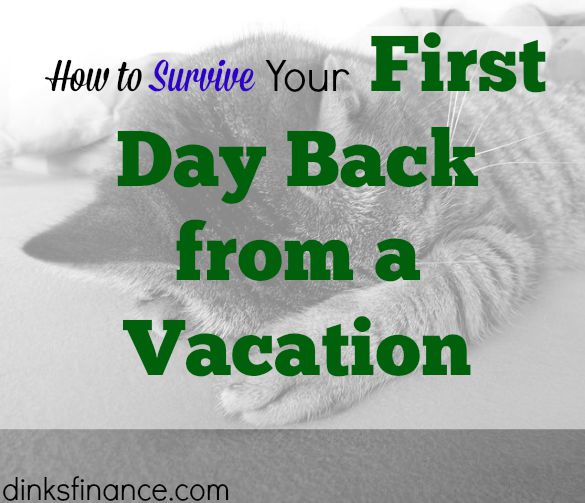 Today was my first day back to work after almost two weeks of vacation and all I can say is "Good Lord It Was Hard".  I had a great time off work, I spent five days in NYC and then spent the rest of the time hanging out with Nick.  All in all great vacation, except for the part where our rental car was broken in to but all that's in the past now.
Today I went back to work and you know what I was kind of happy to.  Well not really because of course I'd rather be at home in my pjs eating French Toast for breakfast but thems the breaks.  I used to have anxiety every time I had to go back to work after a vacation and last night I didn't have it.  Either I'm getting old or I really really love my job.  I think it's a bit of both.
So back to my story about going back to work after almost two weeks off.  I have learned there are a few tricks that can help us ease back into our work routine after a vacation.  Even though the first day back is anything but routine.
How do you deal at your first day back to work after a vacation?
Start with the phone messages
I was out of the office for 10 days and I didn't have a single phone message.  I expected to come into the office and respond to phone messages first because a) if people feel the need to pick up the phone and call me their need must be urgent and b) people consider a delay in responding to a phone message to be very rude.  However to my surprise I had no messages.  I think by activating my extended absence greeting I blocked my voice mail box.  Is that possible?
Tackle your emails next
There is a bit more leeway when responding to emails.  I think 48 hours is a reasonable time to respond to an email so I get to these next.  I had 220 emails, but each had a different request so they took some time to get through.  Although if there's one thing in the world I hate it's an overcrowded inbox so I try to file emails and keep it as neat as possible.
Drink lots of water
The first day back after vacation is hard work so my advice is to stay hydrated.  However more water means more trips to the bathroom and more bathroom breaks means taking time away from your work.  So I'll let you be the judge of this one.
Don't forget to eat
Time flies when you're busy answering emails and fielding phone calls from everyone who knows it's your first day back from vacation.  It's real easy to get caught up in your work and forget to eat, drink or go pee.  But you have to make time.  Otherwise you'll find yourself dehydrated and starving with a headache by 5 pm.  No one wants that.
Be sure to leave at 5
If not you'll be there until dark.  There is always something to do but trust me it can wait until tomorrow.
Get Your FREE Ebook
DINKS (Dual Income No Kids) Finance focuses on personal finance for couples. While by no means financial experts, we strive to provide readers with new, innovative ways of thinking about finance. Sign up now to get our ebook, "Making Money Tips for Couples" FREE.