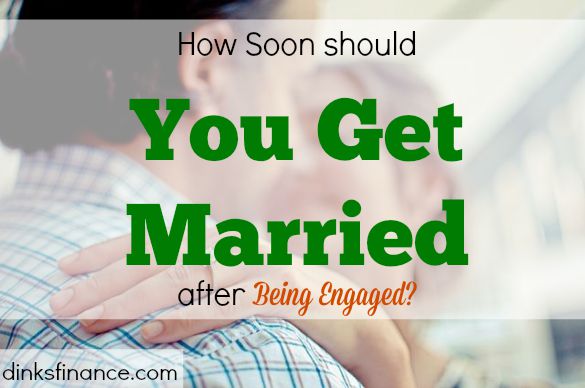 How long were you and your spouse engaged before you got married?  That seems to be the million dollar question for all couples.  My best friend just moved in with her boyfriend of one year.  Her parents were less than thrilled with her choice because she was committing to him without "any promise" – that's a direct quote.
As you know Nick and I have been dating for 16 years and it doesn't look like marriage is anywhere in our future.  So if someone asked me "How soon should you get married after being engaged?" my answer would be forever.  However, not everyone feels the same way.
When you can afford it
My best friend decided (against her parent's wishes) to move in with her boyfriend on the condition that they would be engaged within the next year.  I don't agree with giving your boyfriend or girlfriend an ultimatum, but it's definitely one way to go.
My friend will be 35 years old this year and she doesn't want to "waste time" if there is no promise of getting married – that's also a direct quote.  She wants to get engaged as soon as possible and now that they live together she's just waiting for her boyfriend to pay off his debt so he can afford to buy her an engagement ring.
Before the seven year itch
There's a scene in The Hangover movie where Stu tells his friends that he is going to propose to his girlfriend because they've been dating for three years and that's what you're supposed to do.  I hate doing anything because we are supposed to do it at a certain age, because we have a certain amount of income or just because that's what society says we should do.
However some could argue that if you don't set hard deadlines for your goals they will never be achieved.  I believe goals that are tracked get accomplished, so if getting married is one of your personal goals maybe a definitive date is a good idea.
As soon as possible
When it comes to dating, relationships and getting engaged my friends are all over the spectrum.  I have a friend who dated men she met in bars, men from the office and men she met online.  All the relationships ended in breakups.
She finally decided to try online dating one more time and found the man of her dreams.  Within a year of meeting they moved in together, got engaged and got married one month before their first date anniversary.  Now after two years of marriage her son is about to celebrate his first birthday.
Obviously the rash decisions and rush to the alter seemed weird to me (16 years of dating, remember?) and when I asked her about her year of chaos she just said "I know it's right".  O.K. I guess I can accept that, but how well do you know someone you've only known for 11 months?  Well enough to get married I guess.
Get Your FREE Ebook
DINKS (Dual Income No Kids) Finance focuses on personal finance for couples. While by no means financial experts, we strive to provide readers with new, innovative ways of thinking about finance. Sign up now to get our ebook, "Making Money Tips for Couples" FREE.