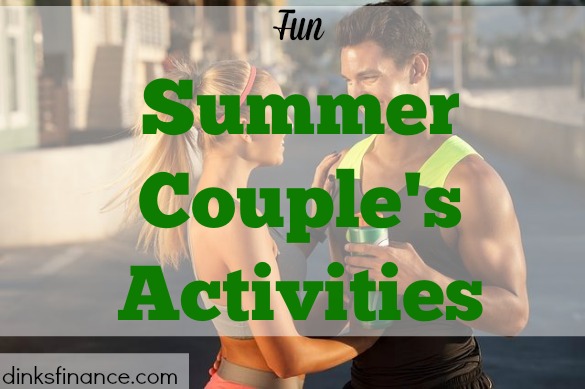 Good morning Dinks.  Are you and your honey looking for ways to get active together this summer?  Maybe some of you are already active and maybe some of you are looking for fun things to do together that get you moving…outside that is.
Yesterday I was talking with my boss and she mentioned that every Saturday morning she and her husband watch an hour of TV while drinking their coffees and then they head off to the gym.  I thought "Oh that's nice."  Other than the occasional walk around the neighborhood Nick and I don't do a lot of sports activities together, but we could.
Join a couples sports club
I'm going to try and convince him to join a couples sports league.  I'm not suggesting you have to play together, in fact playing on opposite teams may spark some healthy competition in your relationship.  However joining a co-ed league in the same sport such as volleyball or baseball can help get you out of the house and get active at the same time.  You can also join the same club but play on an all men's or all women's team.
Start rowing
As a kid I used to love paddling with my Dad on the lake. Eventually I was good enough (and old enough) to go out on my own.  Now of course I know paddling a canoe is not exactly the same as rowing, but it's similar and it's a sport you can do together just the two of you or join a bigger team.   I personally love anything to do with the water so if I could find a canoe in our neighborhood (and could convince Nick to do it) I would definitely sign us up.
Enter a bowling league
I know that couple's bowling is kind of cliché, but bowling can be a lot of fun.  We did this on our last vacation and we had a great time. You can get a group of friends together and create a team or the two of you can join an existing league.  It doesn't necessarily get you out into the great outdoors but it does get you out of the house and bowling as a sport is semi active, right?
Go for a hike
For those couples who are fortunate enough to live in a part of the country where mountains, forests and hiking trails are available I say go for it.  We don't have that luxury here in the city so a nice long walk along the water will have to do just fine – and it does.  However there is something about being surrounded by nature and fresh air filled with moss that is a little bit romantic, do you agree?
How do you and your sweetheart stay active? (PS remember this is a family friendly blog)
Get Your FREE Ebook
DINKS (Dual Income No Kids) Finance focuses on personal finance for couples. While by no means financial experts, we strive to provide readers with new, innovative ways of thinking about finance. Sign up now to get our ebook, "Making Money Tips for Couples" FREE.