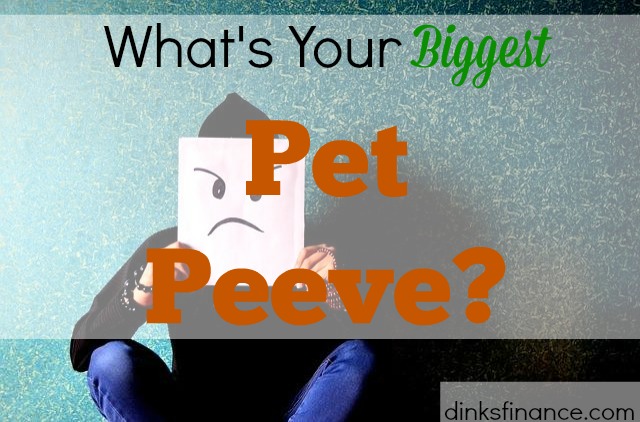 Good morning Dinks.  I'm not sure what it is about this week but people are really getting on my nerves.  Do you ever have one of those weeks?  A week where you just can't bear to be around people for too long.  Thank goodness I work alone online.  Sometimes it's lonely, but this week I'm thankful for it.  Maybe I'm working too much, maybe I'm just growing into and old grouchy woman or maybe I'm just having a bad week.  Either way it seems like I can't just get some peace of mind.
Most of my personal pet peeves include waiting because I'm extremely impatient and money because I am extremely cautious with my spending thanks to previous bad habits.  What are your pet peeves?
People who never follow through
I hate people who lie, mostly because it means I'm relying on someone and my plans get messed up because they don't do what they say they will.  I hate that.  I guess the easy thing to do would be to not rely on people, I guess I'll have to work on this.
This especially bothers me when it comes to money.  My employer has been saying I'll get a corporate credit card for several months now but I have yet to receive one.  In the meantime I am stuck paying all my travel expenses out of pocket and waiting three weeks to be refunded.  Not the best laid plans if you ask me.
Don't count change in front of me
This is one of my biggest money pet peeves.  I always feel people are cheating me when it comes to money.  I know paranoia is not a cute quality and always being suspicious of everyone is not a great way to live, but I can't help it.
I was taught to always be cautious, when you combine that with the fact that I've been screwed over a couple of times (O.K. maybe five) by friends, family and co-workers it makes me think that everyone is out to get me.  When people don't count change in front of me it makes me have to recount it myself and that really bugs me.
This week I wasn't in the mood for any shenanigans so when the bank teller didn't count the money in front of me I asked him to take it out of the envelope and recount it.  Yes I admit it probably wasn't the nicest thing in the world, but like I said I was in a bad mood.
Overpaying and only realizing it after I leave the store
Overpaying for items is like losing money and I hate losing money.  This is why I pay very close attention at grocery stores, pharmacies and anywhere else I make big purchases.  I watch the screen as each item is scanned to make sure it's the correct price, however this means I am not watching the person who is bagging my items.  I know this sounds crazy because why would someone want to steal my paper towels or apples, but again I'm a bit paranoid.
Get Your FREE Ebook
DINKS (Dual Income No Kids) Finance focuses on personal finance for couples. While by no means financial experts, we strive to provide readers with new, innovative ways of thinking about finance. Sign up now to get our ebook, "Making Money Tips for Couples" FREE.