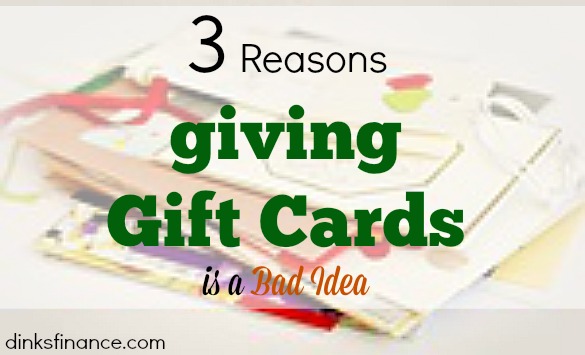 Good morning Dinks.  Do you love or hate getting gift cards?  And how about when you're on the other side of the fence, how do you feel about giving gift cards to your friends and family?
I personally love getting gift cards for Christmas and my birthday – those are really the only occasions we can celebrate me.  Well there is Valentine's Day, but a gift card would be an extremely inappropriate gift for Nick to give me considering I have an unhealthy addiction to Reese Peanut Butter Cups.
So like I said, I love getting gift cards, but giving them is a whole other story.
You can't tie a bow on them
I like giving presents for special occasions because we can wrap them up in a box, tie a bow on it and make it look pretty for whomever I'm giving it to.  I also like the fact that gift wrap can be themed based on the occasion such as Christmas, birthdays, baby showers etc.
The same cannot be said for gift cards.  Sure they can be put into a small box and gift wrapped, but that brings a whole other set of complications.  Women tend to get excited when we see small boxes wrapped in a bow.  If I thought Nick was giving me jewelry – or a ring – and I opened the box to find a gift card I would be very upset.
They have a unique purpose
Giving gift cards means the recipient can only use the gift card in one place.  Maybe it's their favorite store and that can be a good gift, but even so, it still limits their spending options.  Every single year for Christmas my mother's boyfriend buys her a $300 gift card to a spa and she loves it.
Every single year her boyfriend asks what she wants for Christmas, actually let me rephrase that.  Every single year he asks my mom where she wants a gift card to for her gift.  I know that men don't usually like shopping, so if her boyfriend doesn't want to search the mall for the perfect gift that's his prerogative.  However I truly believe there is a gift out there for everyone.
Gift card require one decision
I'm pretty sure it's clear from our six years together that I can't make decisions.  I like to attribute my lack of decisiveness to the fact that I'm an October born Libra.  However the truth is I just don't like it.
There is a certain amount of pressure that comes with finding the perfect gift and for some reason the stress is elevated when it's a gift card.  I think it's because if I buy a gift someone doesn't like they can return or exchange it.  I don't think you can get a full refund on gift cards, can you?
Get Your FREE Ebook
DINKS (Dual Income No Kids) Finance focuses on personal finance for couples. While by no means financial experts, we strive to provide readers with new, innovative ways of thinking about finance. Sign up now to get our ebook, "Making Money Tips for Couples" FREE.