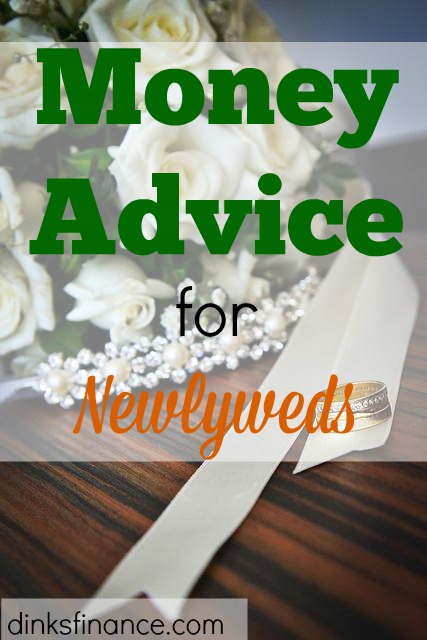 Good morning Dinks.  You may remember from earlier in the week that my high school friend Jessica just moved in with her boyfriend.  While we were chatting about her big milestone over coffee she asked me "Do you have any advice?"
As a financial planner I'm naturally full of good advice.  My words of wisdom to  this couple who is about to merge their lives is to "avoid joint accounts until at least one year after moving in together".  The reason is in the first year you are still getting used to merging your lives and living together.  There's no need to learn how to manage your money together at the same time.
Waiting at least a year before merging your money also lets you see how your other half takes care of their money, it's easier to adjust if each person does it on their own instead of trying to do it together.  And who says you need a joint account anyways?  They're not for everyone you know.
What advice would you give to newlyweds?
This advice came at the perfect time because two singles in the world of money blogging just became a couple.  In honor of their matrimonial celebration the personal finance community celebrated the way only a bunch of money bloggers can…by giving pieces of financial advice for newlyweds along with our best wishes.
Congrats to LaTisha D Styles and Romeo Jeremiah.  Here are the money and relationship tips our friends had to share:
"Congrats!!! My advice is "happy wife, happy life"

"Honesty.  We celebrate 15 years this year and the only advice I'd have is– get really good at forgiving and compromising if you aren't already. It's worth it."

"My advice is to extend the same grace to your spouse you would want when you mess up. Forgive quickly, joke around often and have lots of sex!"

"Always give yourselves something to look forward to and don't stop dreaming together."

"My advice is to never listen to unsolicited advice."

" I'm not married, but 15 years in the same relationship has taught me to always make time for my boyfriend. No matter how busy life gets just always make time for each other."

"I will be celebrating 30 years of marriage this year! – Talk to each other with gentle hearts and compromise. When receiving advice or suggestions – always take 2 minutes to consider what was shared before responding – in other words, don't be too quick to say NO The goal should always be to make each other happy."

"My advice is to make sure you always take time for each other. It can be challenging when you have careers, families, and if kids enter the picture. It doesn't have to be fancy or expensive–we have some of the best times just going to get a cup of coffee together–but it's key to staying connected."

"Always talk, when you think you are communicating go another step!"
Get Your FREE Ebook
DINKS (Dual Income No Kids) Finance focuses on personal finance for couples. While by no means financial experts, we strive to provide readers with new, innovative ways of thinking about finance. Sign up now to get our ebook, "Making Money Tips for Couples" FREE.