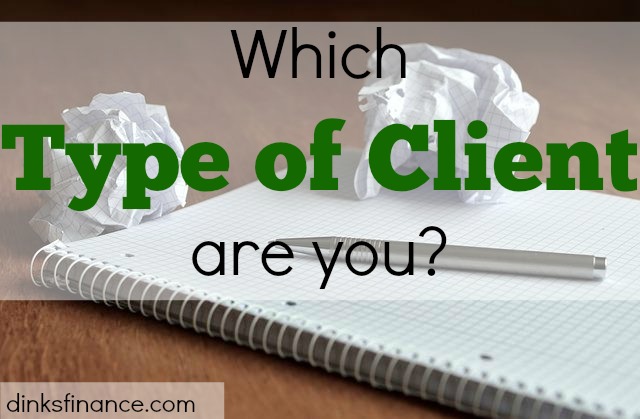 Good morning Dinks.  As the tax filing deadline quickly approaches on April 15 people all around the country are deciding if they want to contribute into their retirement accounts before the deadline and if so how much money do they need.
Although I no longer work in the world of banking many of my friends still do.  They are ready to rip their hair out this time of year as the last 15 days before the deadline approach.  Ah I remember those days of working 8 am to 8 pm so clients can come and make deposits into their IRAs at their convenience.
I can't help but think about my ten years working during the rush season.  I had clients of all kinds walk in and each one had a unique story.  I don't know what it is about this time of year but it's almost like it's the full moon of banking, the crazies come out.  It's not funny at the time but it makes a good story afterwards.
Next time you're less than polite to a teller or go off on your financial planner think about the story they'll tell afterwards.
These are three types of clients that come into the bank, which one are you?
The order giver.  This is the type of client who comes in with their check already prepared and the type of investment marked in the notes section.  They don't care about personal greetings and they don't want any advice.  They just want the transaction to be processed, they want their receipt and they want to get out of there ASAP.
For a teller this is the ideal client because they keep the flow of traffic moving.  However as a financial planner there are procedures that need to be followed and personal information that has to be updated.  The order givers of the world have very little patience for anything that doesn't directly involve what they tell people to do and that can make for a very uncomfortable few minutes.
As these types of clients left my office I always reminded them that they can also process transactions themselves online.
The whatever you think is best.  Ah I have nothing but eternal love for these types of clients.  They want my advice and as long as they understand why I'm recommending these specific products they have total faith that I'm doing it for their best interest.
In a nutshell they are a financial planner's dream client. They value the advice, appreciate the work involved and never take more time than needed.
The let's talk it out.  These types of clients always make the best stories.  I had one client from France who would visit me on a weekly basis to discuss her retirement investments every time her parents told her something new happened in France.  One week she would want to leave her money in cash, the next week she would want to invest in gold and then the week after she wanted bonds.
It was a total nightmare from both a compliance and customer service point of view.  I wasted several hours with her talking about the different scenarios for the same money, without any new deposits.  I finally lost my patience and transferred her portfolio to another financial planner.
Which type of client are you?