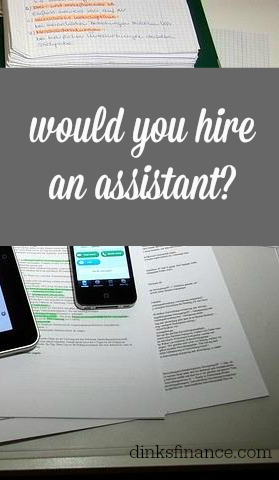 Good morning Dinks.  Let me ask you a question, do you have an assistant? The reason I'm asking is because it seems like the topic of assistants is in the air this week.  I went to my chiropractor on Monday for my monthly visit and there was a new girl working in the office who he introduced as his assistant.  Then on Wednesday one of my freelance employers missed a meeting because he didn't keep proper track of his schedule.  And there you have it one of the men in my life hired a new assistant and the other needs to hire one.
An assistant can be worth the cost
When my chiropractor told me he has a new assistant I had to do everything in my power to try and hold in my laughter. My first thought was why does a chiropractor need an assistant if he has a receptionist?  Then upon further thought I decided it's actually a good idea.
She's not really a personal assistant, she's more of an office helper.  She prepares the rooms and cleans up after the clients, she also brings clients into their rooms so they don't have to sit in the waiting room.  All in all I think she helps the flow of traffic which allows the doctor to see more patients in a day.  More clients means more money and therefore this is definitely an assistant who's worth the cost.
When an assistant isn't worth it
If you aren't busy, just unorganized than an assistant may not be worth the cost.  However if your assistant brings added value to the business in the form of efficiency then bring an assistant on board.  This is the dilemma I'm having with the freelance client.  I'm not sure if he's extremely busy or just unorganized.
The way I see it an assistant can help out in one of two ways: they can free up time in your personal life so you can dedicate more time to your business or they can help organize your business life to make your time more profitable.
A big misconception is that assistants are only for CEOs and really important people, but the truth is anyone can have an assistant.  If you're unorganized and inefficient an assistant can help get you on track or an assistant can get you coffee and wash your dog, it can really go either way.
Virtual vs. in house assistants
If the added benefit of having an assistant is to organize your schedule, book events, and keep you on time for everything then a virtual assistant will do.  However if you need someone to prepare documents for meetings, set up board rooms and take notes those meetings than you may need to hire someone in house.
The benefit of hiring a virtual assistant is they can work from anywhere and you don't actually have to pay them to come into the office.  It's usually cheaper to hire a virtual assistant because they work on contract as oppose to being a full time employee with office space and benefits.  I know some of my blogging friends have virtual assistants and they swear they couldn't run their business without one.
Get Your FREE Ebook
DINKS (Dual Income No Kids) Finance focuses on personal finance for couples. While by no means financial experts, we strive to provide readers with new, innovative ways of thinking about finance. Sign up now to get our ebook, "Making Money Tips for Couples" FREE.