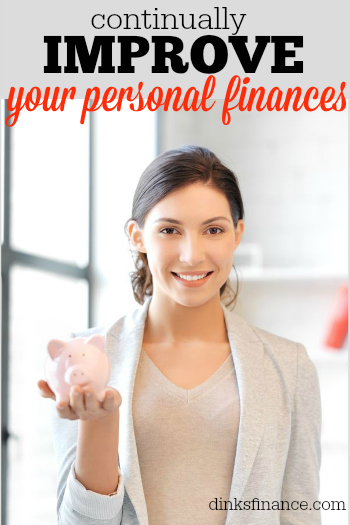 Sponsored by Edelman Financial Services
Let me ask you a question, do you think your money life is better now than it was 10 years ago?  20 years ago?  30 years ago?  I can definitely answer yes.  My boyfriend Nick and I have both come a long way in how we make and manage our money over the last 20 years and I'm proud to say we've been doing it together (learning how to be financially responsible) for 15 of those 20 years.
I look back on our money life and I think, "My, my how it's changed."  I can only imagine what my money life will be like in another 30 years as I near retirement.  Some people get nervous about getting older, but not me.  I look forward to the day when I can reap the benefits in retirement of my hard earned working  years.  Don't you?  Actually maybe you already are!
Goals change as we get older
One of the major benefits of money in our golden years is that our priorities change.  I've always had a good work ethic because when I was 14 I got a monthly allowance from my parents in exchange for weekly chores.  However what seemed important back then seems a little silly now.
I didn't think about saving for the future back then, although I wish I did.  As a teenager I spent most of my money at the mall eating ice cream and buying cassette tapes – YEP I'm showing my age.  You've got to love the 90s.  Now I wouldn't even think about buying myself something nice until all the bills have been paid and I've put some money aside for savings.  Like I said, goals change as we mature.
We learn from our money mistakes
Oh boy did I learn.  At 24 I was almost $20,000 in debt, by the time I was 29 I was $50,000 in debt.  My wide eyes for a lifestyle I couldn't afford got the best of me; because of that mistake I learned how to properly manage my money the hard way.
Would I change it?  Probably not.  I wish I never had to go through working three jobs and always being exhausted and losing sleep over stressing about money.  But all those things made me the person I am today.
That's the beauty of becoming older, we get wiser about money (and about life) at the same time.  In a way I guess I'm thankful it happened when I was young because it gave me the chance to work hard, earn more money and pay off my debt.  I definitely wouldn't want to be on a fixed income in retirement and still in debt, I'm not sure how I'd manage that.
As we get older we have different priorities
Now at 34 I work two jobs, save money regularly and spend my money on things that matter, like travel.  Buying cassette tapes and having the latest fashion trends are no longer my money priorities and that's OK because it's just a part of growing up.
If my life can change this drastically in only five years I have to say I'm looking forward to what the next 10, 15, 20 years have to bring to my life money wise.
Do you want to take the necessary steps to align your money priorities, organize your financial life and get ready for retirement? Well we have good news!  Smart Women Finish Rich® seminars are happening all across the country starting today until March 16.
Smart Women Finish Rich® is the popular seminar series based on the New York Times bestselling book written by Edelman Financial Services Vice Chair David Bach.  It gives women the tools you need to invest wisely, retire happy and be a money powerhouse.
For more information and to sign up for a date near you please visit  the Edelman Financial Services website or click here.  Use promo code DINKSBlog to bring a friend for free!
___
David Bach is Vice Chairman of Edelman Financial Services LLC, a Registered Investment Advisor. He is an Investment Advisor Representative who offers advisory services through EFS and a Registered Representative of (and offers securities through) Sanders Morris Harris Inc., an affiliated broker/dealer, member FINRA/SIPC.
Advisory Services offered through Edelman Financial Services LLC. Securities offered through Sanders Morris Harris Inc., an affiliated broker/dealer, member FINRA/SIPC.
Get Your FREE Ebook
DINKS (Dual Income No Kids) Finance focuses on personal finance for couples. While by no means financial experts, we strive to provide readers with new, innovative ways of thinking about finance. Sign up now to get our ebook, "Making Money Tips for Couples" FREE.