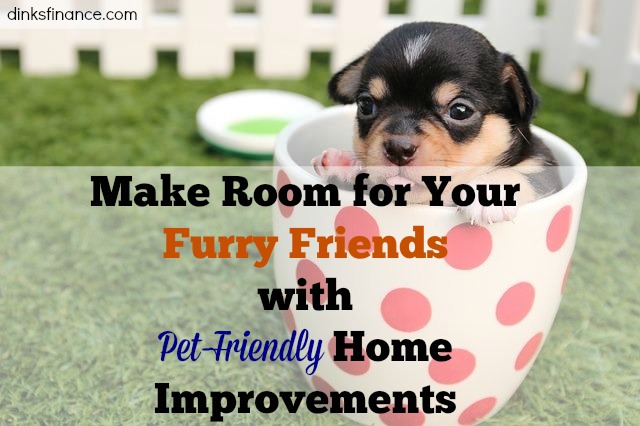 Preparing your home for new pets may mean you have to complete some pet-friendly home improvements. Not only do you want a pet-friendly house devoid of poisonous plants and potential choking hazards, but you also want construction materials resistant to the destructive nature of frenzied felines and pernicious pups. Consider remodeling ideas for pets that will give them a safe place to play, while keeping your home habitable for humans as well.
Pet-friendly flooring to reduce stains and scratches
One of the most important pet-friendly home improvements is flooring, which can mean the difference between minor clean-ups and major home repairs. The following types of pet-friendly flooring each have benefits and drawbacks, so consider which works best with your furry friends and home design.
Linoleum: As the quality of linoleum flooring improves, it's becoming more popular among pet owners since it's easy to clean and replace if necessary. Simple to install and available in multiple designs, it's also more affordable than wood or tile.
Hardwood floors: Easier to clean and maintain than carpet, a light to medium finish wood floor will also reduce the appearance of scratches. But be wary of hardwood floors with sneaky pups. If you don't catch the puddle in time it could stain the floor and you may need to sand or refinish the entire floor.
Stain-resistant carpeting: Choose carpets designed to prevent pet stains from seeping through to the floor. It's also a good idea to choose carpeting that will blend with any fur your pets shed. A low pile, inexpensive carpet with synthetic fibers and without continuous loops may be a good option.
Odor-reducing remodeling ideas for pets
No matter how much you love your pets, you would probably prefer to do without pet odors. Take advantage of these tips for removing pet odor and pet-friendly home improvements that can prevent odor in the first place.
Steam clean upholstered furniture and carpets regularly
Use a vinegar and water mixture to remove odor from hardwood and linoleum floors
Choose paint that eliminates or reduces odors
Keep litter boxes in a separate room with a cat door so they can go in and out easily. Also, choose a kitty litter formulated to reduce odors.
Create a pet-friendly space just for them with home equity financing
Whether you want to give your pets their own room, or install fencing with room to run, a home equity loan or home equity line of credit can help you finance the project. In fact, you can secure flexible home equity financing to use on just about any pet-friendly home improvement.
Sponsored content was created and provided by Citizens Financial Group.
Get Your FREE Ebook
DINKS (Dual Income No Kids) Finance focuses on personal finance for couples. While by no means financial experts, we strive to provide readers with new, innovative ways of thinking about finance. Sign up now to get our ebook, "Making Money Tips for Couples" FREE.