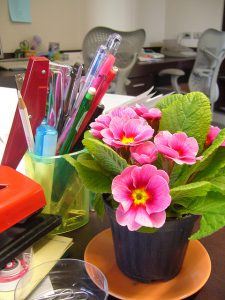 Last week my company announced they are being sold to a competing investment firm.  My initial thought was panic but honestly I didn't have much time to think about it until a few days later.  As you know I work as the corporate community manager so needless to say I had an incredibly busy week.  The media and investment industry were buzzing with the news release so we had to be on high alert.  It's been five days since our CEO made the announcement  and after the initial shock aka panic wore off I had some time over the weekend to actually sit back and think about  my future.
Here's how it all went down:
Monday @ 5 pm – All employees received an email from our CEO announcing the sale of our company.  It's interesting to note the announcement was made after the market closed.
Monday @  6 pm – All employees were invited to a company meeting where the CEO answered questions.
Monday @ 11 pm – Needless to say social media was busy after the announcement so I was called in to work overtime monitoring for any mentions.
Tuesday @ 9 am – The market opens and our CEO announces shareholders will receive a substantial dividend thanks to the profits of the sale.  He also mentions it's business as usual until January when the takeover will actually begin.
Tuesday @ 9 pm – Another late night monitoring and reporting social media comments, mentions and news releases to our executive team.
Wednesday – Our manager (not the department head) talked to us as a team and asked if we had any questions.  Of course everyone did!  She advised us our jobs are guaranteed until January but as of next year when the transition starts and the integration begins no one knows what will happen.
Thursday – Our manager talks to all employees one on one.  She asks how we're feeling since the news was announced and asked what our plans are.  Some team members were honest and said they are going to start looking for a new job as soon as possible.
My manager told me she is going to wait and see what happens.  Social media is very new to my company so our team is very young; there are ten people on my team and all of us have been with the company less than two years – including my manager.
Friday – Needless to say the moral in my company is very low.  People are panicking because in three months we could all be out of a job.  Everyone, and I mean everyone, is talking about the news.  All throughout our building I'm hearing chatter about what people think will happen, what they're going to do and how they're going to pay their bills come the new year.
I think the fact the news was sprung on  us at the very end of the day on Monday is making everyone uneasy.  I admit it's unsettling because I can't help but think what else are they hiding?
Photo from Flick
Get Your FREE Ebook
DINKS (Dual Income No Kids) Finance focuses on personal finance for couples. While by no means financial experts, we strive to provide readers with new, innovative ways of thinking about finance. Sign up now to get our ebook, "Making Money Tips for Couples" FREE.