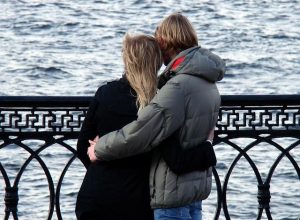 When it comes to life insurance there's a big misconception that if you don't have kids you don't need coverage. This couldn't be farther from the truth.
In fact, there are many instances when singles need insurance and even more cases where DINKS need coverage.
So today I wanted to take a look at the reason that you might need life insurance even if you don't have kids.
You Have a Spouse Who Depends on You
DINKs are two income families. And if you have a partner who depends on your income to pay the bills, especially debt like a mortgage, then you definitely need coverage.
You don't want to leave your partner in a pinch if something would happen to you. It's going to be hard for your spouse to adjust to life without you without even considering finances.
The last thing you want to do is leave even more of a burden on your loved ones.
According to a recent study conducted by State Farm, the top three feelings evoked by Americans when they think about a life insurance purchase are protected (36 percent), confident (22 percent) and relieved (21 percent).
If you want to feel confident about your family's financial situation then determine the amount of life insurance you need and contact your agent. You might be surprised at just how cheaply you can obtain coverage.
You Have a Co-Signer on Your Debt
Have you taken out a student loan, car loan, or other type of debt but needed a co-signer to be qualified? While it's nice to think that your debt dies with you that doesn't happen when there's another guarantor on your loan.
Whoever cosigned for your debt is going to be on the hook if something happens to you.
If you have no one else depending on you, you should at least get life insurance for the amount of debt you have a co-signer on. You don't want to be a financial burden to the person who was willing to help you out.
You Want to Cover the Cost of a Funeral
Funerals aren't cheap. In fact, the most recent data from the National Association of Funeral Directors reports that the average cost of a funeral is around $6,600.
If you know your loved ones won't be able to easily afford this cost you can cheaply obtain a life insurance policy with that amount of coverage.
Plus, you'll find peace knowing that you're not causing financial stress to your family.
What Are Some Other Reasons?
Life insurance is not just a financial tool for married couples with children. The fact is, we all have different needs. Some of us need a lot of coverage to feel protected while others can get by on very little.
Examine your individual situation to determine how much coverage is right for you. Then call your insurance agent or visit Good Neighbors to learn more about life insurance.
Having life insurance will round out your financial plan and give you the peace of mind you deserve.
Do you have life insurance? If so, what made you decide to get it?
Disclosure: This blog post was written as part of a sponsored program for State Farm to raise awareness about the importance of life insurance. All views expressed are entirely my own, and were not influenced or directed by State Farm. You can learn more about this blogger program and life insurance at GoodNeighbors.com, PlantingMoneySeeds.com, and by following #StartLiving on Twitter.