With Summer on the way out, it is easy to succumb to a bit of a gloom; the days are getting shorter, the warm weather is receding, and family vacations are a thing of the past. However, while the sun is definitely setting earlier and the 90 degree days are mostly done, there is still plenty to do with family and friends in the fall.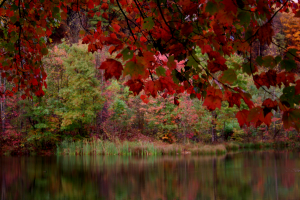 Image source: Wikimedia Commons
Consider some budgeting tips before setting out on a few last minute trips. Christmas is just around the corner, and something as simple as switching banks can have a great impact on your finances. Take at your monthly fee's and how much of a return your saving account has
For individuals who live in the Northeast, or don't mind a bit of a drive, Vermont at this time of year is quite the spectacle. The fall foliage in the small state is an unmatched display of natural beauty. With the rich scarlet and gold leaves clinging on to the branches of Maple trees, the rolling hills and mountains, and the quaint villages, Vermont offers not only a beautiful fall getaway, but an affordable one as well.
If you're a bit too far away to justify a trip to Vermont, or are looking for something different, the National Apple Harvest Festival in Biglerville, Pennsylvania may be a destination to consider. With a variety of attractions for the entire family including live Jazz music, Native American dancers, and chainsaw carving you'll be sure to enjoy yourself thoroughly. With a 10 dollar entry fee for adults, and free admission for children under 12, you'll find this trip to be easy on the wallet as well.
Moving to the West coast, another fun destination for the fall (especially for those who want to enjoy a little more summer) would be San Diego. In the early fall, the weather is still warm enough to enjoy the beach, with the added bonus of avoiding large crowds. You may also consider a day trip to the San Diego zoo for a reasonable price, or a drive down Highway 101 along the shore of the Pacific Ocean. Regardless of what you do, you'll discover that in some places, the Summer endures for quite some time.
Whether you choose to see the fall foliage, participate in an apple celebration, or lounge in the comfortably warm weather of southern California, you'll find that the fall still has some treats to offer everyone at an affordable price. Most importantly, these trips won't result in a financial strain during the Holiday season, allowing you to enjoy them it peace.
Get Your FREE Ebook
DINKS (Dual Income No Kids) Finance focuses on personal finance for couples. While by no means financial experts, we strive to provide readers with new, innovative ways of thinking about finance. Sign up now to get our ebook, "Making Money Tips for Couples" FREE.