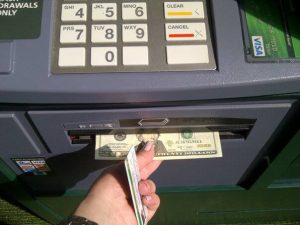 Good morning Dinks.  I'm not talking about our normal day jobs, although I'm sure some of us have great stories about all the things we have to put up with to get a regular pay check.  But I'm not talking about all that – it's a whole other discussion.  I'm talking about all the outrageous things you've ever done for money.
I'm hoping no one is going to tell us that they've done anything illegal or crazy like robbing a bank (we know that doesn't work, remember?) or hijacking a casino a la Ocean's Eleven.  I'm talking about anything and everything we would do to get a few (or a lot) or extra dollars in our pockets.
Having extra money is never a bad thing
I was reading the side hustle series on my friends blog over at Budgets Are Sexy and to be honest the stories were both shocking and comforting.  As you know I'm a hustler.  I work 40 hours every week at my day job and I put in another 20 to 30 hours into my freelance writing business.  Why? Well to tell you the truth (without sounding like a total douche bag) I love money.  After reading the side hustle series it was great to know that I'm not crazy.  It's comforting to know that other people get their hustle on too!
I've always had more than one job, ever since I was 16.  Before I started freelance writing I worked in a lingerie store, at McDonalds, in a kids clothing store, sold candles and I even tried to get a part time job at the cable company so I could get my TV, internet and home phone at a discounted rate.
Would you sell sex for extra money?
If I didn't have a boyfriend and had the courage to do so I think my new side hustle would be selling sex.  Not the dirty, street corner kind, but the legit, clean five star hotel kind of sex.  I read the Diary of a Manhattan Call Girl trilogy and it really opened my eyes as to how prostitution can really be a business.
I mean these women had penthouse apartments in Manhattan, private personal trainers, vacationed in the south of France and paid taxes.  All they had to do was get an A list clientele and they were making a six figure income.  It's a totally respectable occupation when you treat it like a profession.
Would you pick through garbage for extra money?
This is 100% a true story.  There's a lot of money in recycling.  I know you're probably thinking about homeless people recycling cans at the grocery store, but it can be so much more than that.  It's not by any means glamorous and there are no added perks such as getting your lingerie at half price or eating Big Macs for free, but collecting recyclable goods will put some extra money in your pocket.
I have a friend who used to stroll around her neighbourhood on Saturday and Sunday mornings picking the cans and bottles out of recycling bins.  No joke she made $50 in two days from recycling.  Not bad for a weekend.  She always said "The great thing about recycling is you can make as much money as you want."  And she's right.  If you want to make more then you have to walk around more and put in more hours.  But an extra $50 a week was good enough to fill her car with gas – and it's tax free.
Photo from my Flickr
Get Your FREE Ebook
DINKS (Dual Income No Kids) Finance focuses on personal finance for couples. While by no means financial experts, we strive to provide readers with new, innovative ways of thinking about finance. Sign up now to get our ebook, "Making Money Tips for Couples" FREE.