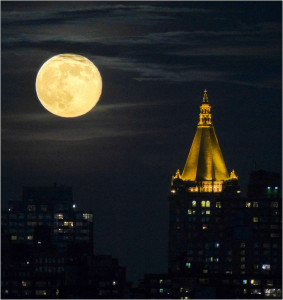 Good morning Dinks.  Remember back in May when I went to NYC and lost my bag full of stuff? Well this past weekend I went back for a vacation do-over and I have to tell you…it was awesome.  I normally don't travel in the summer, especially to big cities, because it's hot and overcrowded with people.  However this time I made an exception because I really needed to get away and two of my friends were happy to come along.
You know that I usually travel alone which means I have to find the cheapest accommodations because it's expensive to take a vacation solo.  This time I had two travel companions so I could afford to spend a little extra money on food and experiences that I normally wouldn't.  All in all my trip didn't cost me a penny more than it would have if I travelled alone and I got the chance to experience some really cool things in NYC.
4 Must Go Places in NYC that are worth the cost
A Broadway show.  I absolutely love the theatre.  There is just something very exciting about a live show at night in Times Square.  It really makes me feel like I'm living the high life in New York.  You can get all dressed up and spend a night out on the town.  The best thing is at 10 pm when the show lets out you are right in the middle of the busiest corner in the city that never sleeps.
I know when you look at online prices to Broadway shows are expensive, I know tickets to The Lion King can cost over $200, but if you really want to go it's worth the cost.  You can save some money on the ticket price by sitting higher up in the balcony, you usually have a view of the stage from anywhere in the theatre.  You can also visit the TKTS booth in Times Square and buy discounted tickets for matinee or evening shows the same day for under $70.
3 really good restaurants.  I normally never pay more than $10 for a meal, especially in NYC where there is a Chipotle almost on every block.  In case you've never heard of it Chipotle is the Mexican restaurant equivalent of Starbucks.  It's great quality, prices are reasonable and it's super addicting.  Trust me, try it and you will find yourself looking for the closest Chipotle to your next travel destination.
This time around we ate at Juniors in Times Square, best known for their cheesecake.  It's $7 a slice but it's really worth it because it tastes so great.  We also ate at Serendipity where it cost us $23 each for lunch but we got to have the frozen hot chocolate – yes just like in the movie.
We ate our last NYC meal at Eataly.  It's a market/restaurant at the corner of 23rd and 5th Ave.   Most products are imported directly from Italy and the food is great.  It cost us over $20 for a bowl of pasta or an individual size pizza but it was good.  Then we spent additional money on pastries, pasta noodles and Gelato.  It's definitely more than I would normally spend on food and groceries, but it was worth it this time because the cost was split in 3 so I could afford it.
Photo from Flickr
Get Your FREE Ebook
DINKS (Dual Income No Kids) Finance focuses on personal finance for couples. While by no means financial experts, we strive to provide readers with new, innovative ways of thinking about finance. Sign up now to get our ebook, "Making Money Tips for Couples" FREE.