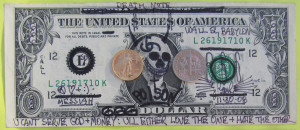 Good morning Dinks.  I just watched an episode of the money-help reality TV show Money Moron starring Gail Vaz-Oxlade.  The opening sequence showed a husband spending money on eating out and the wife says "We agreed I would manage our money because I don't trust him."  My first thought was "YIKES".  However my after thought was "Oh that's smart".
Get on the same page with money – or work towards it
If you are dating someone and you know they aren't good with money would you still date them?  If the answer is yes then I think it's a good idea that one spouse manages the money until the other spouse learns to be financially responsible.  I know some people may be thinking "you can't teach old dogs new tricks", but trust me when I say people can change – I did.
If you want to enter into a relationship with someone who doesn't manage money the same way you do also depends on how early on you discovered your potential spouse was bad with money.  If you already love them it may not matter, but if you have only been on a few dates and you start noticing bad habits it may be time to bail out.
Did you learn about money together? We did.
I had no idea about Nick's money management style when we first started dating because we were 19 years old.  After we moved in together, got full time jobs and started spending money like crazy we quickly learned that we were both bad with money and we would both need to make some changes.
Considering all the financial trouble I've had in the past I don't think that I would be able to stick around with someone who was in their 30s and couldn't manage their money.  When Nick and I were making money mistakes in our 20s it was OK because there was time to change and we did it together.  I am not sure I would put an effort into making a new relationship work if the man was bad with managing his money.  Actually I know I wouldn't.
Reasons to stay with someone who's bad with money
You want to change them.  There is always that sense of pride when we help someone accomplish something.  Money is no different.  Overcoming money troubles gives people a great sense of pride.
You can keep your money separate.  No one says that you have to open joint bank accounts and joint credit cards when you get married.  If your spouse's money habits are questionable, just keep your money separate.
Reasons to walk away from bad money habits
It could hurt you.  Depending on the severity of the situation bad financial decisions can end up haunting you for many years to come.  If one person in a relationship has bad money habits the other spouse can help them learn how to properly and profitably manage their money.  However if both people are not so great with money it can definitely hurt your financial future.
It can be very stressful.  Being the sole person who takes on the responsibility of managing the family finances can be stressful.  Many couples argue about money – spending too much and accumulating debt.  The stress of arguing about money combined with being the one person who is responsible for managing the household finances can be more than one person can handle.
Photo from Flickr
Get Your FREE Ebook
DINKS (Dual Income No Kids) Finance focuses on personal finance for couples. While by no means financial experts, we strive to provide readers with new, innovative ways of thinking about finance. Sign up now to get our ebook, "Making Money Tips for Couples" FREE.