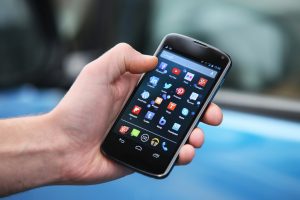 Good morning Dinks.  I have some big news to share with your today…I finally got an iPhone.  Yes that's right it's 2014 and I just got my first iPhone.  As you may remember I am Canadian, a country ruled by Blackberry.  Most of my family and friends have a Blackberry so any other type of phone was just not on my radar, even though my boyfriend Nick is a major Apple supporter.
Take advantage of your Smartphone and all its functions
To make a long story short my personal Blackberry started only typing the letter j so I had to make a trip to my cell phone provider and check out prices on new phones.  I have the Blackberry Z30 for work so I didn't want to get the exact same phone for personal use.
The iPhone 4s was actually cheaper than any other model of new Smartphone so for strictly cost purposes I walked out with a new iPhone.  I know you extreme Apple fans are going to say "The 4s is so old" (because that's what my boyfriend said) but trust me when I say it's OK for me.  I have to admit that I miss the keyboard on my Blackberry but let me tell you I am absolutely loving apps for the iPhone.
Lighten up your wallet with apps not rewards cards
I have discovered a whole new world of downloading apps that were never available on my old phone. I no longer have to search for change at Starbucks because I can just add money onto my account with their app and scan my phone to pay for my coffee.  A world without a coffee card – who knew?
I now have a free space in my wallet.  Any suggestions what I should do with it?  I'm thinking of filling it with a new Costco Card.  I am looking for a good rewards card and I heard American Express comes with great travel rewards.  I started researching and this Costco Card gives cash back and supplementary cards are free for current Costco members.  Does anyone have this card?  I'd love to hear your thoughts.
What's next for apps and credit cards?
Now that I have my new iPhone I am becoming an app snob.  I get my updated weather and bank account balances through my apps.  I haven't downloaded any games yet but I'm sure my Candy Crush addiction is not far away.
I wish that all stores, financial institutions and credit card companies would jump on the app bandwagon and let us pay for all our purchases and earn loyalty rewards by scanning our Smartphone at the checkout.  Wouldn't that be great? I can see my victoria secret credit card login going in this direction soon.  I couldn't even imagine living in a world without credit cards and loyalty cards filling my wallet, but I'd love to live in it.  I am always scrambling at my favorite stores to find my credit card and my rewards card at the checkout.  I wish that I could just scan my phone, pay for my purchase and be on my way.
Photo from Flickr
Get Your FREE Ebook
DINKS (Dual Income No Kids) Finance focuses on personal finance for couples. While by no means financial experts, we strive to provide readers with new, innovative ways of thinking about finance. Sign up now to get our ebook, "Making Money Tips for Couples" FREE.