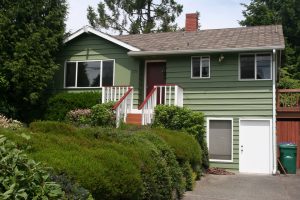 Good morning Dinks.  Today we have a special guest joining us.  Eric from Personal Profitability was kind enough to chat with us and answer all our questions about buying a home and living with his finance.  By the time you read this Eric will be married so please drop him a line to congratulate him on his nuptials and welcome him to the world of Dinks.  This is the story of how Eric and his wife started a conversation about money before they moved in together.
Why did you decide to buy instead of continue to rent?
Before meeting my wife, I had finished my MBA and was living in a one bedroom apartment by the university. I house hunted for six months before I found the condo that would soon become my home. I found a two bedroom in a great neighborhood on the edge of downtown.
I ran the numbers and found that, living with a roommate, my monthly cost would actually be lower than my apartment, so as far as cash flow goes, it was a no-brainer to buy over continue to rent. Because of the neighborhood, the condo value just kept climbing and climbing, so it was a great financial decision all around.
When did you move in together and were you both renting or owning before?
I was living in the condo mentioned above in downtown Denver, and my fiancé lived in a house she was renting a couple of miles away. After dating about a year, we decided it was time to move in when her lease ended.  We made the big move in February 2013.
How do you divide your monthly housing expenses? 
When we moved in together, at first we were splitting everything down the middle 50/50. We calculated the cost of the mortgage payment, HOA, and utilities and split the cost down the middle. We didn't keep tabs on grocery costs or other incidentals and just paid as it was convenient as costs came along.
Why are you now renting?
We actually just recently went back to renting an apartment, but it is not a forever decision. I had a great career and life opportunity that took us to Portland, Oregon. We have been here renting an apartment since December and our condo in Denver is up for sale.
We have not decided whether we want to stay in the rental or buy at the end of the lease, but we have six months to decide.  Right now, we are leaning toward buying a real house with a yard (we are in a rental condo right now) for the dogs, potential future kids, and to have a little more space for our new family.
What was the best thing about owning your own home and what will you miss about renting when you buy another home? 
Now that I have rented, owned, and rented again, my favorite thing about owning is that I can do whatever I want with the space. In the condo, I upgraded the floors, toilets and closets to make the place more comfortable. However, I didn't love paying plumbers and dealing with the hassles (and expensive costs) of unexpected repairs that landlords have to handle when you are renting. I also love not having a landlord when owning, but I have only owned with an HOA, so there was still an overlord watching. If we buy a house later this year or next year, we will be landlord and HOA free!
Photo from Flickr
Get Your FREE Ebook
DINKS (Dual Income No Kids) Finance focuses on personal finance for couples. While by no means financial experts, we strive to provide readers with new, innovative ways of thinking about finance. Sign up now to get our ebook, "Making Money Tips for Couples" FREE.