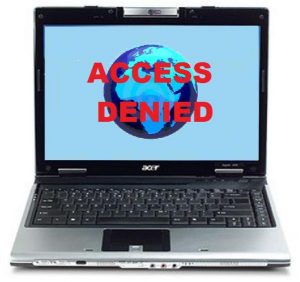 Good morning Dinks.  For the last few weeks all I've read about on every website online from CNN to my bank is about this Heartbleed virus.  So let me ask you a question, did you change all of your passwords.  I certainly did.  As you know I am extremely paranoid when it comes to my money.  I check my bank account balances every morning and throughout the day.
I like to know how much is in my accounts, I like to watch my investment balances grow and I like to see all transactions that come in and go out of my accounts.  The Heartbleed virus definitely took my daily banking habits off balance.
I avoid online banking
For the first couple of days after the Heartbleed virus broke I was a little bit paranoid about the security of my online banking.  News about the virus said that it attacks your computer and obtains your secure passwords.  Who knows what someone can do once they obtain that information.
I wasn't too sure what to think about this new virus attacking computers all around the country.  I wondered if it was just another scam that would quickly be shut down.  But then the days went on and news kept breaking about the security of other popular sites being at risk.  As the days went on more and more websites started posting messages that their connection was secure as they found a patch for the Heartbleed virus.  But in the meantime I also stopped using mobile apps, just to be safe.
Life without the internet
The last few days have taken me back to a simpler time.  A time when we weren't obsessed with checking our emails as we wait in line at the post office.  A time when we weren't constantly checking our friends' status' online and looking at pictures of celebrities every instant.
I have to be honest, I actually enjoyed my time disconnected from the world.  Although the fact that I couldn't check my bank balances without actually going to the bank was a little unsettling.
We can all rest assure now
Wednesday afternoon news broke that the creator of the Heartbleed virus was caught by the federal government.  And guess what?  He's a 19 year old computer science student from my home town.  I am not sure if I should be proud or extremely disappointed.  Nothing really happens in my small hometown so this was definitely big news.
I am not sure why this young man decided to create a computer virus that terrorized thousands of people for several days.  But I would like to think he had his reasons.  I don't think he was trying to commit fraud, I just think he was a kid being a kid.  That being said I do think he knew what he was doing, I just don't think he meant to cause any harm.
I read that he is currently being investigated by the federal government.  I don't think they should throw him in jail, I personally think they should give him a job.  He is apparently a genius; he may prove to be a very valuable asset in cyber wars.
Photo from Flickr