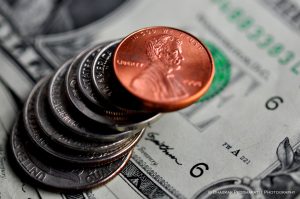 Credit cards can be the frenemy of consumers.  They can be your best friend if you use them wisely but they can also be your worst enemy if you aren't financially responsible.  Using your credit card for smart purchases every month and paying it off in full saves money on interest payments.  It also helps maintain or increase your credit score.
Take advantage of your credit card – don't let it take advantage of you
A smart credit card purchase comes two fold.  The first feature of a smart purchase makes sure the benefit is worth the cost and the second ensures you get a reward with your purchase.  Financial responsibility starts with your budget.  Before you make a purchase on your credit card make sure the cost fits into your budget.
You will always have a happy financial life if you use your credit card wisely and only spend what you can afford to pay off in full each and every month.  Not only should you avoid overspending to save on interest charges, you should also benefit from using your credit card.  This means lots and lots of rewards such as extended purchase warranties, free upgrades and complementary insurance coverage.
4 purchases you should always make on your credit card
1. Your new TV and other electronics.  Many credit cards offer an extended manufacturer's warranty on everything from sports gear to electronics.  A manufacturer's warranty usually allows you to repair or exchange your item within twelve months of the purchase if it is damaged.  I recently bought a laptop and my American Express Gold Card actually doubled our manufacture's warranty.  HP gave us a two year warranty and our American Express gave us an additional two years. You will find all the details in the fine print of your credit card agreement.
2. Your next car rental.  Before you pay a daily premium for car rental insurance call your credit card company and check if they offer car rental insurance.  Some travel credit cards offer damage and collision car rental insurance when you pay for your car rental with your credit card.  Some credit card companies also offer a discount rate on your car rental.  Car rental insurance can cost an additional $25 a day.  I love avoiding this extra cost by having car rental insurance with my credit card.
3. our airplane ticket.  Your credit card may include several travel perks such as free upgrades, access to an exclusive airport lounge and insurance coverage when you book your airplane ticket on your credit card.  You can save on the costs of having to purchase additional insurance if your credit card offers trip cancellation or delay, loss of baggage and out of country medical insurance.
4. Your night out on the town.  If you are going to treat yourself to a night out on the town you might as well be rewarded for it.  Some credit cards offer extra cash back on restaurant and entertainment purchases.  My American Express Gold Card gives us 4 x the rewards points on all purchases at restaurants.  This is definitely a good reason to eat out.
What's the bottom line? Before you charge anything on your credit card give your provider a call to check if you have additional benefits and rewards with your purchase.
Photo by PedHappati
Get Your FREE Ebook
DINKS (Dual Income No Kids) Finance focuses on personal finance for couples. While by no means financial experts, we strive to provide readers with new, innovative ways of thinking about finance. Sign up now to get our ebook, "Making Money Tips for Couples" FREE.