Warren Buffett's 2013 Shareholder Letter is Out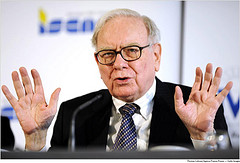 Hi All,
For all you Buffett followers out there, Berkshire Hathaway has released the much anticipated annual 2013 letter to shareholders.
A good summary of the letter is up at Business Insider, so I won't say anything more about the content of the letter itself.
For those potentially interested in picking up some shares of Berkshire Hathaway, please bear in mind that Buffett is getting old. He was born in 1930, which puts him at 84. So, its a good bet that he won't be here in 5 to 10 years. The Berkshire board seems to have choosen a successor for him, but its unlikely any successor will be as talented at making money. Indeed, Buffett is a financial anomaly. Under his leadership Berkshire Hathaway produced a cumulative real return of 693,518% since 1964. This is so astronomical most average people have a hard time comprehending it.
By the way, we've been liking online brokerage Loyal3 a lot lately. If you do see some value in getting Berkshire Hathaway, Loyal3 can get you into Class B shares for as little as 10 bucks and no fees.
Best,
James