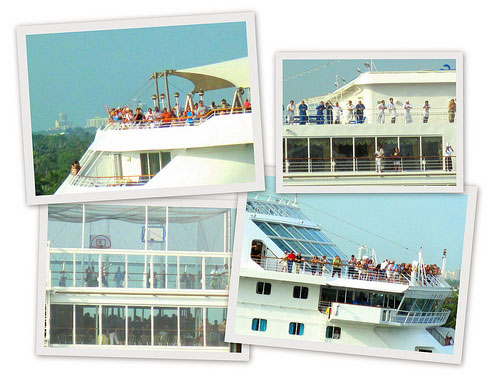 The following is a guest post from Crystal at Budgeting in the Fun Stuff.  That's where she writes about her bills, saving for the future, and making sure that they fit in fun stuff along the way.
I am a big fan of cruising.  We live in Houston, TX, so we can sail out of Galveston on Carnival pretty affordably.  Then I can spend a week relaxing, eating, and even get to snorkel in water that isn't brown…
Basic Cruise Costs
Now that my husband isn't teaching, we can go in the "off-season" (aka, when kids are in school) for $300-$600 per person for 5-7 day sailings.  It's great!  A week's vacation for $1100-$2000 for the two of us is something we can fit into our budget once or twice a year.  But we do keep in mind that the tickets aren't the only expense.  The other basic cruises expenses include the $10 a day parking around the port and the $11.50 a day per person for mandatory tips on the boat.
For example, so we have a 7 day cruise coming up this January 2014.  We ended up paying $1050 for both of the tickets and it will be $160 for mandatory tips, so we are looking at $1210 in just straight costs.
Excursions
Overall, excursions can run from $40-$300 per person depending on what you choose to do.  On our 7 day cruise coming up, we've already splurged $110 per person and booked two tickets on an excursion to Xcaret in Mexico.  It's a natural water park that has two underground rivers that we truly enjoyed floating down a few years ago.  We may also splurge $50 per person on a snorkeling tour of Stingray City in the Grand Caymans.  That will be a total of $320 in excursions off the boat.
Extras
This is where a cruise can get truly expensive or stay relatively affordable.  The extras include whatever money you choose to spend on:
Alcohol
Gambling
Professional photos
More tips
Souvenirs
The spa on board
Fancy restaurants
The amazing variety of other paid activities that I may be forgetting…
When we cruise, my husband knows that he will want to gamble a little each evening.  I know that I will want at least a couple of adult drinks as well as a couple of bottles of whatever we like to take home.  We even budget for any professional photos or extra tipping that we may want to add in.  We have avoided the spa so far though.  It offers hair services, massages, and even teeth whitening.  But at their prices, we know we can find better deals at home or online like Teeth Whitening by Smile Brilliant.  Overall, we usually allow ourselves about $250 per person for extras, and so far, always bring some of that $500 total home.
Our Total Cost
So far, the best deal we have ever gotten was our last cruise, which was last October and 5 days long.  The tickets were $275 per person, we didn't do any excursions, and we bought a lot of professional photos.  Our overall cost for absolutely everything was $1050 total.
The 7 day cruise coming up will be $2000 or less.  That $2000 total is if we spend all of the extra $500 that we take on board.
So if you can keep to your plan and successfully avoid other splurges, you can easily use a cruise as a comparably cheap getaway for the week.
Have you been on a cruise?  What did you think?
—————-
Photo by The Sean & Lauren Spectacular
Get Your FREE Ebook
DINKS (Dual Income No Kids) Finance focuses on personal finance for couples. While by no means financial experts, we strive to provide readers with new, innovative ways of thinking about finance. Sign up now to get our ebook, "Making Money Tips for Couples" FREE.