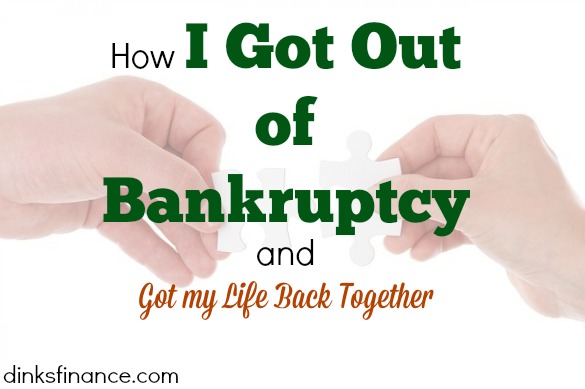 Good Morning Dinks.  This is a follow up post about why bankruptcy was not the best option for me. I used to be so broke that I couldn't afford to pay both my cell phone bill and my satellite bill in the same month. I was eating only two meals a day and one of those meals was cereal.  I didn't mind because I actually really love cereal so it wasn't so bad.  When the first of the month came around my boyfriend and I had to decide whether we were going to pay half of the rent or buy groceries. My boyfriend's philosophy was always that paying the rent should always be a priority because it's always better to have a roof over your head.
I agree with him because if we have no where to cook our food being able to afford to buy food is kind of pointless.  However going to sleep with our bellies empty is also not fun.  When I look back on the few years that I was broke that I absolutely don't regret those tough times because they made me into the financially responsible person that I am today. After all it was my over-spending that got me into trouble into the first place so it was my own responsibility to clean up the mess.
I Would Have Lost My Job
I looked into the option of declaring bankruptcy and having all of my personal debts (except my student loan) cleared out but unfortunately that just wasn't an option for me. Due to the fact that I work in personal finance I would have to declare my new financial status to the proper financial authorities and most likely lose my job.  This was not an option. I worked too hard to get to where I was and I didn't want to throw all of that out the window just because I couldn't control my spending.
I Would Have a Big Red X on my Credit
Admittedly my credit score was very low at the time but having a bankruptcy would have just totally eliminated me from the credit universe.  After looking into all of the details (and consequences) of filing a bankruptcy I absolutely understand that it is a solution for some people but it just wasn't the right choice for me. I wasn't going to apply for credit any time soon (I wouldn't have been approved anyways) but just the thought of not having the option scared me.
So I Cleaned Up My Finances By Myself
I know that this is not an option for everyone who may be in a similar situation to me but luckily for me it was an option.  Instead of having my car repossessed in a bankruptcy I decided to sell it privately and make a little bit of money.  Instead of being evicted from my apartment I decided to move to a more affordable (but less desirable) neighbourhood.  I got a second job, I became a hermit and I started paying off my debts.
The weird thing about the whole situation is that I am actually proud of myself.  I know that I created the financial mess for myself but I kind of feel a sense of accomplishment for becoming financially responsible.  Is that weird?