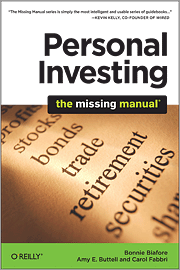 Folks,
We haven't done any book reviews in a while.  While I was browsing around at the Books-A-Million at DuPont Circle last Thursday, I picked up a copy of Personal Investing: The Missing Manual by Biafore, Buttell and Fabbri.  I was hunting for a good basic primer on personal finance and wasn't disappointed.  The book is a breezy 226 pages and has loads of solid advice and basic educational content.  Unlike a lot of the junk in the personal finance field these days, I found the book a refreshingly solid summary of the nuts and bolts of money management basics.
Specifically, if you need to learn to manage the psychology of investing, buy stocks or manage a portfolio, this would be a good place to start.
At  $21.99 its a great value and will be worth the read.
Best,
James
Get Your FREE Ebook
DINKS (Dual Income No Kids) Finance focuses on personal finance for couples. While by no means financial experts, we strive to provide readers with new, innovative ways of thinking about finance. Sign up now to get our ebook, "Making Money Tips for Couples" FREE.