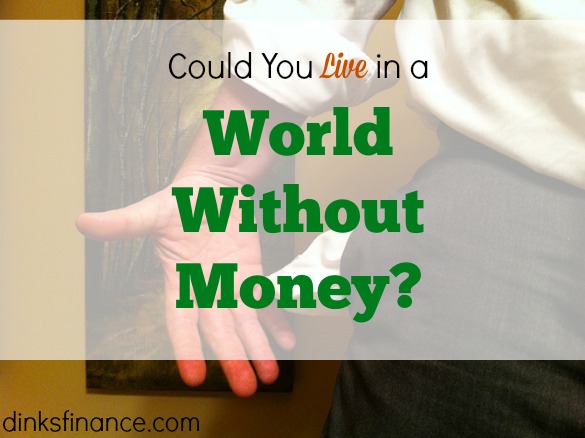 Good Morning DINKS. Think about what you purchased yesterday…now think about how you paid for it.  Did you use your debit card, did you use your credit card, or did you pay with cash? It is said that cash rules everything around us, so let me ask you…do you live in a world ruled by cash?
Unfortunately we don't live in a world that is run by a barter system; we live in a world that is run by the concept of cash.  We can't trade our old kitchen appliances for a brand new bedroom set, we can't trade our magic beans for a cow, and we can't trade our unwanted living room couches for a week long all inclusive vacation at a tropical resort. However, we can purchase a new bedroom set, and we can pay for our next vacation with cold hard cash.
If the almighty paper and coin cash didn't exist we would live in a world that will be ruled by virtual money.  We would pay for our purchases with a debt or credit card, our pay would be deposited into our bank account, and then we would make bill payments through online banking.  Some of us may live like this now by paying for our daily purchases with only an electronic form of payment such as a debit or credit card; but the odds are that most of you reading this post have some paper cash or coins in your purse or wallet.
If we lived in a world ruled by virtual money we would never have to make change for our purchases, we would never have to scramble for money to make a phone call or pay a toll booth fee, and we will never have to wait in line at an ATM ever again.  If we lived in a world ruled by virtual money everywhere, every store, and every merchant would accept only debit and credit cards.
Think about your life if physical cash and coins were not in it. Would you prefer a moneyless lifestyle or would you hate living in a world that didn't have cash?
Here are three things that wouldn't exist in a world without cash:
Wallets.  We wouldn't need to carry wallets and purses if we didn't need to carry paper money and coins.  Our load would also be a lot lighter if we weren't carrying heavy change around all the time.
Cash Budget. If there was no cash in the world then there would be no need to live on a cash budget. Many people live on a cash budget in order to stay within their personal budget and not overspend.  But if we lived in a world only ruled by virtual money and unlimited access to our debit and credit cards could you still stay on budget?
Banks.  Think about the last time that you went to your bank, actually into your bank branch…what was the reason? As a bank employee I can confirm that most people come to their bank branch to get cash, sometimes it is to get domestic currency and sometimes it is to get foreign currency. But either way bank branches would be a lot less busy if we lived in a world ruled by virtual money and not physical cash.
Photo by JMR Photography
Get Your FREE Ebook
DINKS (Dual Income No Kids) Finance focuses on personal finance for couples. While by no means financial experts, we strive to provide readers with new, innovative ways of thinking about finance. Sign up now to get our ebook, "Making Money Tips for Couples" FREE.