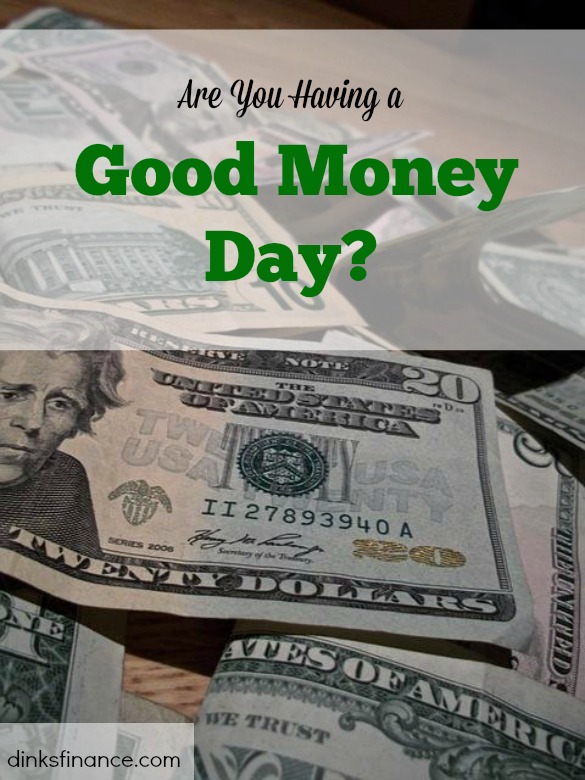 Good Morning DINKS.  Today I woke up and I just knew that it was going to be a good money day.  Sometimes I have one of those days when nothing goes right, and sometimes I have those days when everything just seems to fall into place.  Have you ever had one of those days when everything just goes exactly how you wanted it to?
A good money day is a day when you wake up and feel good about your money, a good money day is when the value of your investment portfolio increases, or you find a $20 bill on the street.  A good money day is can also be a day when you may get a nice little money surprise like having more money in your bank account than you thought you had, or finding out that the item you have been wanting to buy has finally gone on sale.
Just as money can help us have a great day, if our money isn't right it can also ruin our day.  Money (among many other things) can help make or break our day as well as our good mood.
You May be Having a Good Money Day If…
You got paid and your pay check is more than you expected.  I love pay day. It has happened to me a few times when my payroll deductions such as various contributions and taxes are a little bit less so my pay check ends up being more than I expected.  I also love it when those quarterly bonuses are added on to my pay check.
You spent less during the day than you thought you did.  Sometimes I come home from running errands and I think "Oh Dear Lord" I definitely overspent, but then I check my bank account and the financial damage isn't as bad as I thought.
The money you have been waiting for has finally arrived. It is very rare that I lend money to friends and family; not because I am cold hearted, but just because if they don't pay me back it's weird to harass family members.
You received your tax refund. I love the morning when I wake up and my tax refund has been deposited into my bank account. I usually save half of the money and I usually spend the other half on a vacation or a little splurge.
You May be Having a Bad Money Day If…
You didn't get paid. When I used to work on commission there were weeks when I didn't get paid because of a "system glitch".  It's difficult to plan a monthly budget without having a steady income.
Money owing is not returned on time. It can definitely ruin my day (or anyone's day) when we are counting on money to be repaid and it's not given back to us when it is supposed to be.
The market (and your investment portfolio) declines.  Of course there are risks when we invest our money and I know that our retirement investments have a long time horizon but it still hurts to see their value decline in the short term.
Your Credit Card Bill is More than You Anticipated.  I hate this.  Sometimes I forget about some of the purchases that I made throughout the month and my bill gets to be a bit high. I always try to pay off my credit card bill in full so when this happens it just means that I have less disposable income that month.
What makes you have a good (or bad) money day?
Photo by epsos
Get Your FREE Ebook
DINKS (Dual Income No Kids) Finance focuses on personal finance for couples. While by no means financial experts, we strive to provide readers with new, innovative ways of thinking about finance. Sign up now to get our ebook, "Making Money Tips for Couples" FREE.