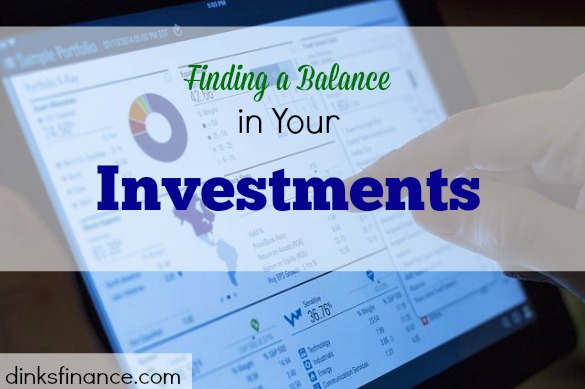 With the markets being unpredictable, it may be a good idea to have a balanced investment strategy to create stability and try to lower our daily changes in the value of our investments.
A Balanced Investment Strategy has both fixed income as well as equity in our Investment Portfolio.  This is especially an important strategy for long term investments such as our retirement portfolio.  I know that some of us are young and some of us have 30 or more years left until retirement and therefore (in theory) we should seek long term growth in our investment portfolio.  However, just because we are young and we have a long term time horizon does not mean that we have to take a lot of risk.
The Definition of a Balanced Investment Portfolio
Personally I am a Balanced Investor.  This means that I like to hold both fixed income as well as equity investments in my portfolio.  I hold both foreign and domestic fixed income in the form of Bonds and Mortgage Backed Securities.  I also hold domestic Equity such as Dividend Mutual Funds and Blue Chip Stocks.  This gives me a balanced mixture of investments to help protect me against large losses in any one particular sector.
The concept of a Balanced Portfolio gives us the perfect mixture of both low risk fixed income and high risk equity assets.  Therefore when one sector in our portfolio looses the other could gain, and our overall investment rate of return will be a lot lower than if we had only high risk equity investments in our portfolio.
The average rate of return in a Balanced Portfolio is approximately 6-8% per calendar year.  Over the long term when we factor in compound interest, steady lower rates of return are a lot better than large gains and losses.  Investors can choose to hand pick individual investments to create their Balanced Portfolio; or they can purchase a simplified Mutual Fund of Funds or a Balanced Mutual Fund which already buys preselected investments.
With a Balanced Fund There is No Need to Try and Time The Market
A Balanced Investment Portfolio allows us to directly take advantage of gains in the market; it also protects us against potential losses.  It is very difficult to try and purchase the perfect investments at the exact time when we try and time the market.  Very often the strategy of trying to time the market is more of a losing strategy than a winning one.  Buying a little bit of everything in a Balanced Investment Portfolio allows us to take full advantage of market gains for all types of investments, without the stress and time consumption of trying to time the market.
The asset allocation of a Balanced Portfolio can be a 50/50 split evenly between Fixed Income and Equity or it can weigh a little bit more or less each way.  I am actually what they call a Balanced Growth Investor, I like to have both Fixed Income and Equity investments in my portfolio with a little more emphasis on the Equity. I am investing for the long term so I definitely want long term growth in my portfolio from Equity Investments, but at the same time I also want the security and stability of investing in Fixed Income.  Fixed Income Investments provide a lower more constant rate of return, whereas Equity Investments are more volatile and experience larger fluctuations. I have a 65/35 split of Equity Investments and Fixed Income investments in my Retirement Portfolio which allows me to take advantage of market gains without the risk of losing everything.  It is the perfect balanced investment!
Photo by Puuikbeach