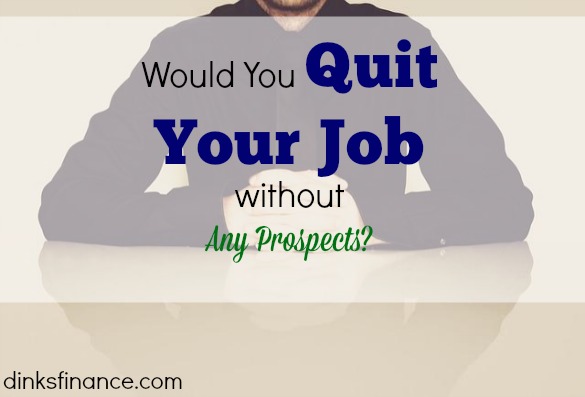 Good Morning DINKS.  Let me ask you a question, do you like your job? I was recently talking with one of my co-workers who told me that her husband is currently out of work.  Almost instantly I offered my condolences for him being laid off. She quickly told me that he was not laid off, but actually quit his job and he has been actively looking for a new job over the past three months.
During this same week my co-worker from another bank branch actually got fired. He was unhappy at our bank, but he still came to work every single day because he and his wife are expecting their first baby in November.  I guess that his lack of commitment and possible negative attitude started to affect his work and he was let go without any notice.
Being out of a job is definitely a scary place to be.  The current job market (especially in finance) is scarce and the competition for available positions is fierce.  I personally don't know anyone who absolutely loves their job, but we still all wake up every morning and we go to work every day because we all have financial responsibilities and personal obligations. I am not sure that I would quit my job without any prospects if I had a spouse and a family who were relying on me.
As financial professionals we advise clients to have at least 3 months of expenses in our emergency savings fund, but what can we do if our job loss lasts longer than our emergency savings fund?
It is definitely not a good feeling to be out of work because the uncertainty of our future income can be very stressful.  However at the same time we don't want to feel undervalued in a job that does not maximize our expertise and experience.  If you were searching for a job would you take a position that you considered to be below your level of expertise because after all, some income is better than no income at all.
MSN recently published a list of people where were fired without notice but became rich and famous by doing something else.
Who do you think is on the list?
– Walt Disney was fired from a local newspaper in Kansas before he created a cartoon empire.
– JK Rowling was fired as a secretary for daydreaming about writing a book called Harry Potter.
– Michael Bloomberg was fired from an investment banking firm before he became mayor of New York City.
– Anna Wintour is the notorious editor in chief of Vogue Magazine. She was fired from the magazine Harper's Bazaar after only nine months of working as a junior fashion editor.
– Madonna was fired from Dunkin' Donuts in Times Square for squirting jelly donut filling all over a client.
– Oprah Winfrey was fired as a reporter at a local news station in Baltimore before she became the Queen of daytime TV.
– Jerry Seinfeld was fired from his minor supporting role on a sitcom before he was cast as the leading role in his own sitcom.
Photo by chrismear