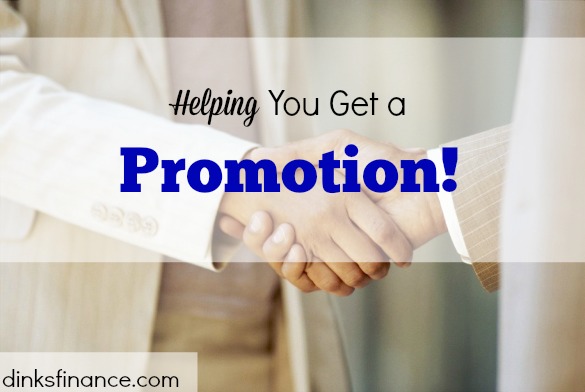 Good Morning DINKS.  As a dual income no kids couple our first love may be our spouse and our second love may be our career.  Every day we go to work in hopes of succeeding in our career and we hope that our hard work is noticed by our boss.  I don't know about your career field but in the world of finance praise are hard to come by. Everyone wants to claim the new best business practice as their own idea.
Many people like having the stability of a regular job, but for many of us having stability is not enough. We want to succeed in our career, we want to always strive for something more, we want to take on more responsibility, and we want to get a promotion in order to earn more money.
Here are some helpful tips to help you get noticed at your workplace and get a promotion:
1. Be Social. The key to getting a promotion is to be seen both in and outside of the office. Our personal contacts can help us make valuable professional connections making professional connections outside of our office can open the door for other opportunities outside of our current employment.  Being sociable and making professional connections can also help us develop contacts to bring in new business to our current workplace.
2. Work hard. Hard work may not always be praised, but it is usually noticed. If we excel at our normal workplace duties as well as any additional responsibilities our extra efforts should be noticed. We should also always make an effort to arrive on time in the morning, be on time for meetings, and never be the first to leave at night.  Late comers are always noticed.
3. Get Educated. Experience is definitely an important aspect of our performance when we want to get a promotion, but so is our education.  If we can prove that we have the book smarts to support the fact that we should be considered for a promotion then our case just got stronger.  Displaying the fact that we are trying to better ourselves and acquire a new skill set shows that we are taking the initiative to get a promotion.
4. Speak Up. Although our personal opinions are never wanted in the workplace (or at least in my workplace) we are encouraged to share our ideas for business process improvements.  Just be careful who you tell about your ideas because we don't want our coworkers presenting our ideas as their own.  We should always speak up when our opinions and comments are positive, negativity is never wanted.  People only want to hear about what they are doing well, not about what things are not working
5. Join a Committee. Extra activities earn extra credit in the workplace. Joining a social committee, a workplace committee, or an employee committee helps get our name outside of our immediate workplace, it helps us make valuable contacts, and it helps us get noticed. Joining a committee also shows that we are willing to make an extra commitment to our employer, outside of our normal duties.
6. Be Proactive. If we want to get a promotion we have to be proactive. No one will hand us a promotion on a silver platter, we definitely have to work for it.  In order to let our boss know that we are interested in a promotion we should proactively ask to job shadow with someone who is currently working in the position that we want. We can ask for a one on one meeting with our boss to discuss our future career plans and to let our boss know that we are working towards a promotion.
Photo by Buddawiggi