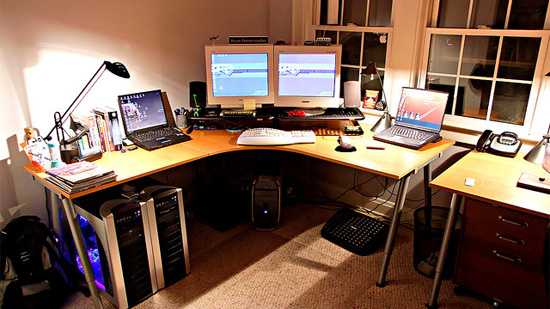 Whether you are thinking of making a career change into entrepreneurship, or you are looking for a hot new stock to buy, I suggest that we all start investing into online based companies.
The reason I say this is because generally the start up and monthly costs are lower than opening a physical business location.  When costs are lower, potential profit earnings can be higher.
If you are starting a new business I suggest that you start it online.  As the company grows and makes profit, you can open physical locations to attract more (and a different type of) clientele.  There are several benefits to opening a "virtual" or online company.
The first, and probably the most important factor when choosing which type of business to open, are the start up costs. This the total amount of money that you will need from out of pocket or from financing, to get the business up and running and off the ground.
As I was researching my start up costs and deciding whether I should obtain financing, look for investors, or use my own out of pocket money I was shocked at the amount of government grants that are available to assist new small business owners.  It is worth it to do some research and find government grants that are available in your business niche.
My Online Company
If you are a frequent reader of our DINKS blog you know that I recently started an online company.  I decided to use my own money for the business start up costs, since I didn't want to have any initial debts related to the business.  Here are my start up costs and a quick rundown of my business budget.
Cost to Register a Corporation in Quebec      $700
Accountant Fee for Registration                    $150 (he is my friend)
Website Design/Development with SEO       $1000
2500 Color Business Cards                          $125
New HP Laptop with Windows 7                  $1139
Total Cost for My Online Business            $3114
Currently as I book contracts I keep 50% of my earnings in the business, I use 25% to grow the business through email marketing and print advertising, and I pay 25% out to myself to recover the initial start up costs.  As I do not hold any physical inventory and I do not pay rent for a physical location my monthly expenses are considerably low.
Once my initial costs are repaid I will use 50% for advertising/marketing and I will retain 50% in the company accounts. Eventually with time, I will retain 60% of my revenues in the company, spend 25% on business research and development, and (after the business is established and has made a name for itself) 15% for advertising/marketing.
When a new business is ready to expand a benefit of being incorporated is that the purchase of the new car or office space will become an expense for the company.  It will not be a personal expense out of your pocket.  If you want to buy a new condo and you work from home, you should finance it under the company.
The second major benefit of an online company is the potential it has to reach a much wider range of clients.  Your client and profit possibilities are unlimited when you are not restrained by space limitations.
The key to a successful business is a good account. So make some new friends.  Are any of our DINKS readers accountants?  If so, let us know. Maybe we can help you find some new clients.
Here are 3 great online businesses:
Open an EBay Store. Buy mass quantities of goods at wholesale prices and sell them online individually at a huge profit.  The costs are low and you don't need to pay for a physical retail location.  You will also reach out to the existing market of eBay clients.  Therefore, marketing costs could also be minimal.
$9.95 Services. If you have a service to offer, then sell it for $9.95.  It is the absolute most popular price point.  How many times have you bought something that you don't need because "It's only $10?"
Blogs. Start or Buy a Blog in your niche.  This is a great way to be creative, do what you love, and be self employed.  You will earn money through sponsorship and advertisers.  If you need some tips, just email our friend J.Money ;)
———–
(Photo by fensterbme)
Get Your FREE Ebook
DINKS (Dual Income No Kids) Finance focuses on personal finance for couples. While by no means financial experts, we strive to provide readers with new, innovative ways of thinking about finance. Sign up now to get our ebook, "Making Money Tips for Couples" FREE.