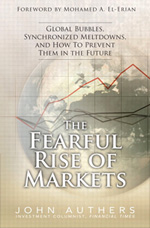 Hey Dinks! Got another book giveaway for you.  We haven't read it ourselves yet, but we'll share part of the press release down below so you can get a feel for what you'd be in store for. And we're giving out THREE of these!  Scroll down to see how to enter…
From their press release: In The Fearful Rise of Markets, Authers addresses the risks of a developing "New Bubble," and provides insights and solutions for the financial markets for 2010 and beyond. Authers also illuminates the multiple roots of the repeated financial crises of the past two decades, including massive shifts in the global balance of economic power; the shift of key decisions from banks to capital markets funded with "other people's money"; the wholesale financialization of key asset classes that were once closed to most investors; and massive failures of both academic theory and government policy.
John Authers provides both concerned readers and policymakers alike with answers on why financial market bubbles occur more frequently, why this could be happening again right now, and what to do about it. Readers will find in The Fearful Rise of Markets:
An exploration into the inner workings of today's highly unstable, crisis-prone financial system with an eye to the future potential problems
Prescriptions for reforming global finance – and sound advice for individual
investors in the meantime
A global view with comprehensive context: how we got here, and why we're still at risk.
In The Fearful Rise of Markets readers will gain the historic perspective of the current financial crisis on a global level that is needed if we are to work out how to prevent a future crisis.
Want a free copy?
Drop a comment with your own theory as to why we had this recent meltdown, and you'll be entered to win!  We'll pick the 3 winners this Friday night (July 2nd) @ 10pm via Random.org.  Good luck!
———-
More from Amazon: The Fearful Rise of Markets: Global Bubbles, Synchronized Meltdowns, and How To Prevent Them in the Future

———–
*GIVEAWAY NOW OVER: The three lucky winners are: Juan R., Forest, and Becky. Congrats! I'll be hitting you up via email shortly to get your mailing info. To the rest – stay tuned! Have a pile more of books waiting to go to a good home.
Get Your FREE Ebook
DINKS (Dual Income No Kids) Finance focuses on personal finance for couples. While by no means financial experts, we strive to provide readers with new, innovative ways of thinking about finance. Sign up now to get our ebook, "Making Money Tips for Couples" FREE.