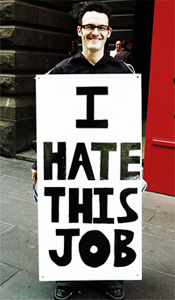 My heart goes out to the Miners in West Virginia and their Families. Every day when I sit in my office and think to myself…I really hate my job, I have to keep in mind that someone always has it worse. Everything is relevant and in reality my job is not so bad.
We sometimes take our jobs for granted. We are spoiled in a way. DINKs are raised in an environment where education is essential. Doors have opened up to us that were not open for our parents. Sometimes we don't realize exactly how lucky we are to even have a job in this current economy.
So what do we do when we hate our job so much that we want to call in sick every single morning when our alarm clock goes off? Basically we need to man up in the situation. We need to suck it up and stop complaining, or make some changes in our professional lives.
I am 29 years old and I have been working since I was 15. I am definitely ready to retire but that won't be a reality for another 25 years or so. The mere thought of working in an office for another 25 years makes me feel a bit nauseous. When we are unhappy in our jobs we need to ask ourselves… What exactly is making us miserable? Is it the corporate world? Or is it just my current position?
Depending on the answer we will have to decide to look for another job or make a major change and become self employed. When making this decision please keep in mind that recent job loss and unemployment rates are at an all time high. There are many qualified candidates who are also searching for a job in this tough economy. The difference is that they are searching for a new job while you will be searching for a better job. There is a huge difference.
If you are like me you have been considering self employment for some time. Finally last year I decided to take a leap of faith. I am going to jump off the corporate finance cliff and hope that it is not personal financial suicide. My business is currently only part time as I am not ready to detach (yet) from the Corporate World. As my business grows, it is becoming harder to manage my day job that pays the bills with my dream job of becoming self employed.
When I decided to become self employed I thought that I was a leader of the pack, as it turns out I am merely a sheep following the pack. Yahoo Finance published an article on the benefits of becoming self employed (Canadian version) and statistics on recent spike in self employment.
If self employment is not the path that you want to walk down then there are several different ways to search for a job. Yes, the market is saturated with qualified unemployed candidates but there are still several companies and industries that are currently hiring.
Visit job boards such as Craigslist and Monster, and if you're in Canada try out Workopolis and Job Boom. These sites have several resources and it's all Free. You will find resume writing as well as interview tips, and current industry buzz words that employers love to hear. These types of Job Boards allow you to post your resume live which lets employers search for you as a candidate. This is great because you can find employers and apply online but they can also find you.
The second resource that you can use is a placement agency. This is another free service. Randstad, Kelly Services, and Manpower are all great national services. You can also Google placement agencies in your area for local offices. Placement Agencies do the work for you! They will review your resume and your career criteria, they will then search for available opportunities. You tell them your desired salary and what type of position you are looking for and they will find it for you.
Whether you are unhappy with your job, your employer, or just work in general. Remember that our careers are what we do. They do not define who we are! If you are unhappy, don't be afraid to make a change.
~ Kristina
Live Life. DINK it up
——
(Photo by Y)
Get Your FREE Ebook
DINKS (Dual Income No Kids) Finance focuses on personal finance for couples. While by no means financial experts, we strive to provide readers with new, innovative ways of thinking about finance. Sign up now to get our ebook, "Making Money Tips for Couples" FREE.