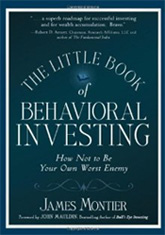 Let's give away a couple free books, shall we? Got an email about this newish one that just came out back in Feb, and from a quick glance over it seems pretty promising.
Here's a little more about this book by James Montier, followed by the directions on how to enter today's contest:
The Little Book of Behavioral Investing: How not to be your own worst enemy

Here's a clip from Amazon: "Ben Graham, the father of value investing, once said: "The investor's chief problem-and even his worst enemy-is likely to be himself." Sadly, Graham's words are still true today. Bias, emotion, and overconfidence are just three of the many behavioral traits that can lead investors to lose money or achieve lower returns. Fortunately, behavioral finance, which recognizes that there is a psychological element to all investor decision making, is now firmly embedded in the mainstream of finance. Applying behavioral principles to an investment portfolio can help investors avoid some of the mental pitfalls that so often cost them, and financial institutions, billions.
In The Little Book of Behavioral Investing, behavioral finance expert James Montier takes you on a guided tour of the most common behavioral challenges and mental pitfalls that investors encounter, and provides you with strategies to eliminate these traits. Along the way, he shows how some of the world's best investors have tackled the behavioral biases that drag down investment returns, so that you might be able to learn from their experiences."
Look good? Tell us a time when emotions played a big part in one of your financial decisions – either for the good or bad. Or just tell us why you want the book, that'll work too. We'll Random.org the winner this Sunday, and we've got 2 to give away so your odds are good!
————–
More from Amazon: The Little Book of Behavioral Investing: How not to be your own worst enemy (Little Book, Big Profits)
————-
*GIVEAWAY NOW OVER* Winners are… Jennifer & Leilani – Congrats!
Get Your FREE Ebook
DINKS (Dual Income No Kids) Finance focuses on personal finance for couples. While by no means financial experts, we strive to provide readers with new, innovative ways of thinking about finance. Sign up now to get our ebook, "Making Money Tips for Couples" FREE.