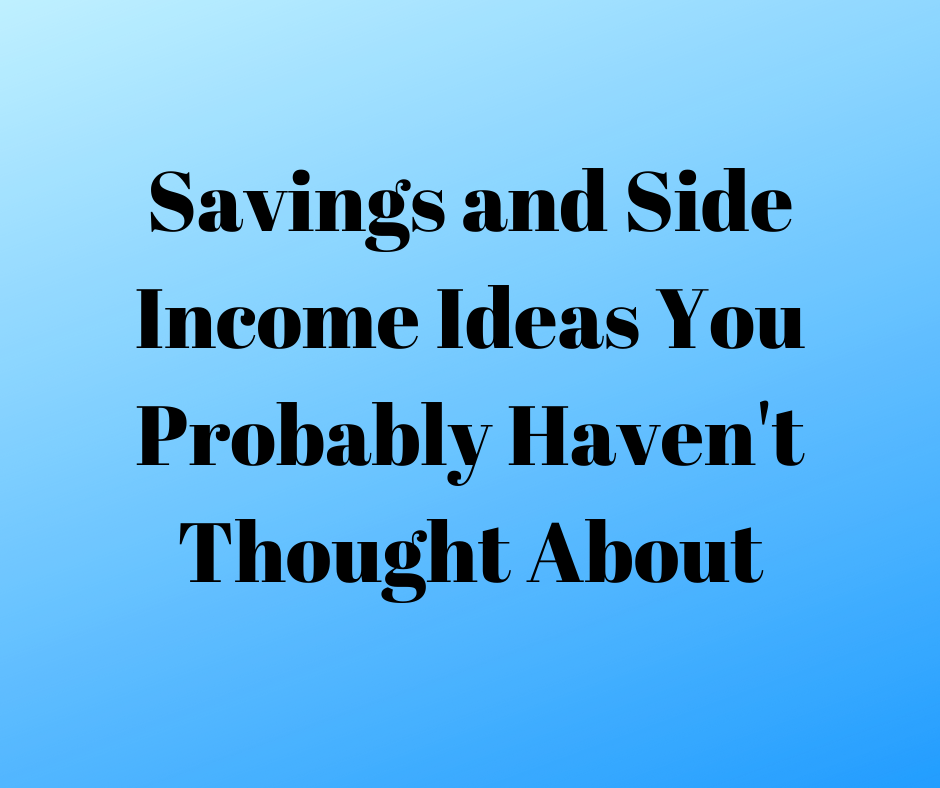 A couple of months ago I made a few decision that blew out my budget – mostly related to automotive costs and housing.  Between my poor own decision making and inflation I've needed to look for aggressive ways to save money and build some side income.  I bet a lot of you are in the same situation.  So, here are savings and side income ideas you probably haven't considered.
Cash Back Sites
First, I discovered and starting using use cash back sites about a month ago.  The technology is a bit old, but it is tried and true.  Depending on the deal, you can get up to 1% to 17% cash back.
https://www.dollardig.com
https://www.rakuten.com
https://www.swagbucks.com
https://www.befrugal.com 
They're easy. You just basically need to open an account with the cash back site and surf from the cash back site to the store.  Then buy something at the store. The store will pay the cash back site for a commission on the sale. Then the cashback site will split the commission with you.
The thing about cash back sites is you need several of them. Why?  They all have different deals.  For example, Dollar Dig has better deals for some stores than Rakuten and Swagbucks. The same with BeFrugal. It all depends on what the sites have negotiated with the brands.
Use A Cash Back Credit Card
Assuming don't keep a balance, using a cash back card is a solid way to partially offset the cost of buying stuff.  All you'd have to do is use the cash back rewards to partially pay off your card balance.  This means you'd have a smaller credit card bill to repay.  Supposedly the internal economics of the credit card industry are such that cards can afford to pay 2% in whatever incentive structure they're using for customer retention. So, you should be able to get at least 2% back.
Use your cash back rewards card in combination with the cash back site.  There is no rule that says you can't.  So do it.
Receipt Scanning
I learned about receipt scanning four months ago and I've been doing it religiously since them.  Receipt scanning isn't a huge money maker, but if you're going to be shopping you might as well get cash for your receipts.  Plus, scanning receipts is fun and doesn't take much time.
These are the apps I have.  Some of them are passive, some are active. They all work on the same basic principle, you trade your shopping data for a small economic incentive.
1. Pogo
2. Bitmo
3. Fetch
4. Coinout
5. ReceiptJar
6. ReceiptHog
7. ReceiptPal
8. Ibotta
9. Amazon Shopper Panel
They don't use much data on your phone. I have all of them in a folder on my Iphone desktop, so its easy to take photos of my receipts and capture them in the apps. The downside is the apps only pay a couple of bucks a month.
Use Coupons
I've used a ton of coupons recently.  Mostly from Fred Meyer – but it's gotten to the point that I won't even walk into a store unless I've at least checked to see if they have coupons.
There has been a ton written about coupons on other sites, but if you want to save money, definitely use them.  Its a no brainer.
Side Income
Here are the things I've been doing to build my side income.
Selling My Personal Data
I've been selling my data online to any company I think is legit and will actually pay. By data, I mean things like browsing history, expense history and social media usage. I figure between this blog and all the tracking big tech is doing my privacy is pretty much shot. I might as well get paid for it.  So, I've been exhaustively looking for companies that will pay me for my digital footprint.  So far these companies look like they're working.
Invisibly
Reklaim
Nielson Opinion Rewards
Swash 
None of these are fantastically profitable – they all generate between $3 to $5 bucks per month.  This isn't a lot of money, but I'm investing the profits in my IRA or putting it towards my emergency fund, so the cash is going to good use.
Taking Surveys
I secretly hate myself every time I take a survey.  When you look at it on a hourly basis, the return on a lot of them is super low.  That said, I've been able to generate about $10 a night from an app called Qmee.  The rate isn't that great, but it does pay immediately after you're done with the survey.  I like this because I like to see cash flowing towards my emergency fund.  Its also been helpful because I'm earning money in the evening instead of watching TV.
At some point I'll find another way to make money that has a much higher return on time.
None of these things will make me a millionaire overnight.  But since my salary is spoken for, they've been good steps for moving ahead.
More From The DINKs
Coping With Inflation and Supply Chain Shortages
How To Turn $1,000 into $10,000
Money Moves Monday – Some Practical Ideas For Building Your Wealth