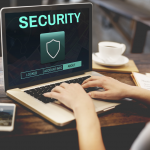 If you are being totally honest with yourself, you'll probably admit that it's extremely convenient to store certain types of personal information online. For instance, if you regularly order merchandise from online retailers, it is much easier to keep your credit card number on file with the company than to search for your reading glasses every time you want to place an order and need to type in those 16 digits, plus the expiration date and security code. In addition, you might have personal information stored on your physician's online portal, with your credit card companies so you can pay your bill on your computer and with your bank.
Sadly, this convenience does come with its share of inherent risks. Storing your personal information online in 2020 means you are opening yourself up to cyberattacks, phishing scams and data breaches.
Fortunately, you don't have to give up paying your bills online or squinting to enter in your credit card each time you place an online order with Amazon or Target. Being proactive and protecting your personal data in the following four ways can really help:
Choose Solid Passwords
For years, the rule of thumb regarding passwords was to change them on a regular basis. However, as LifeLock notes, it is even more important to select a strong and secure password that is virtually impossible for others to guess. Doing this should really boost your information safety and as a bonus, it means you won't have to come up with a new password every month. In addition, resist the urge to use the same password for more than one site, no matter how strong it is.
A great way to get passwords that are figuratively bulletproof is to use a password generator service like LastPass. You can create an account with LastPass using a very strong password and then the program will automatically generate long strings of numbers, letters and symbols as passwords for the sites you visit most.
Close Any and All Unused Accounts
The fewer accounts you have, the less cybercriminals will have to work with. If you still have a random Hotmail account set up from your middle school days, you probably are not using it, but a hacker will be happy to access your files and photos through this ancient email. Go through all of your online activity and close everything that you no longer use—this includes games you no longer play on social media and accounts at online stores you rarely patronize.
Avoid Free Wi-Fi 
Granted, it is handy to use free Wi-Fi at your local coffee shop to check your email or see the latest on your Instagram feed. Unfortunately, the free guest Wi-Fi can also give hackers access to whatever you are doing. If you want to watch a quick show on Netflix while sipping your latte, you are probably going to be okay. But do not catch up on paying bills or other data-sensitive tasks until you are home.
Check the Privacy Policy
When it comes to keeping your data safe and secure, not all websites are created equal. Before submitting your name, email address or any other personal data on a site, it can be a good idea to look up the website's privacy policy. This will tell you how your information will be used and if they will share it with other companies. If you can't find this information, you might consider calling them to ask. This can help prevent you from ending up on all sorts of mailing lists and getting tons of unwanted spam emails.
Enjoy the Convenience of Online Services, But in a Safe Way
Being proactively protective online doesn't mean having to go back to the days of phoning in orders or paying your bills by check. By using a password generator, performing an audit on your accounts and eliminating those you never use, steering clear of public Wi-Fi and knowing exactly how each website will use your personal data, your personal information should remain safe and secure through 2020 and beyond.