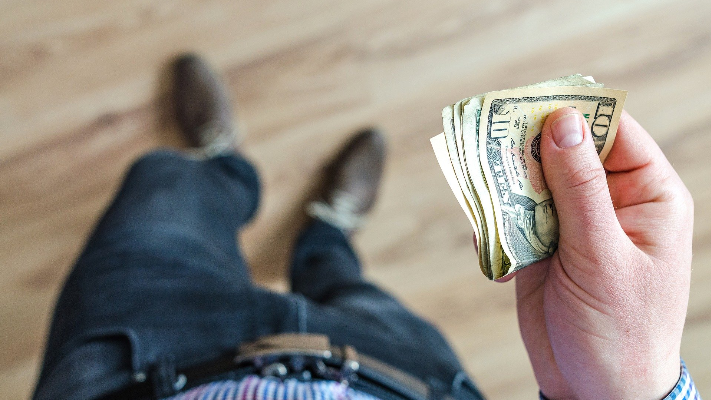 With unemployment filings at an all-time high and many industries and small businesses shut down due to the novel coronavirus pandemic, Americans are deeply concerned with how this health crisis will affect their lives. And that includes their finances.
A new survey conducted by Atomik Research and the debt resolution company Freedom Debt Relief found that 41% of people in the U.S. believe COVID-19 will have a sizable effect on their finances in six months. And while many older Americans view the pandemic as a significant threat to both their health and their money, 32% of those under age 30 report that the virus is a significant threat to their finances — but not to their health, according to a survey conducted by the Pew Research Center in late March.
It's a time when people fear financial disaster. Although there are 1.3 million lawyers in the U.S., the idea of filing for bankruptcy is frightening for anyone. You'll want to do everything you can to shore up your assets. Here are seven tips for making smart decisions about money in these challenging times.
1. Assess Your Assets and Credit
Financial experts say the first thing you should do if you're worried about finances is to take a close look at your total financial picture. List the current balances in your checking and savings accounts and add liquid assets. This is also a good time to assess how much available credit you have, even if you hope you won't need to go further into debt. If you are able to work remotely from home, calculate what you can expect to make on a monthly basis. This assessment will help you make a realistic budget.
2. Create a Crisis Budget
Everyone should make a crisis budget that prioritizes expenses for three months. Put essentials (including food, rent or mortgage payments, utilities, and transportation expenses) at the top of the list and pay for these items before anything else. Up to 64 million American employees have positions that are compatible with telework on at least a part-time basis, but many more workers do not have this flexibility. If you've lost your main job that provided most of your income or your partner can't pursue their side hustle, you'll have to find ways to pare back your budget to what is absolutely essential.
3. Add to Your Emergency Fund
It's important to have an emergency fund at any time, but it's crucial now that unemployment is skyrocketing and the United States economy has largely shut down. Ideally, your emergency savings should be enough to pay for three to six months of basic living costs; during these times, it's actually best to aim for six months' worth of expenses. If you're currently working, set up an automatic transfer of part of your earnings from your payroll or checking account to your savings account. This is particularly important if you don't currently have enough savings to pay three months of living costs. Also consider saving your tax refund, work bonuses, gifts, and money you would have otherwise spent on restaurant meals, hair salon appointments, and other non-essentials.
4. Find Out If You Can Delay Certain Bills
Reach out to companies to which you owe money and see if they will grant you payment extensions or reduced payments. Utility companies, corporations, service providers, and lenders are currently helping customers who are finding it difficult to pay their bills. Your mortgage lender may allow you to pay less per month for a time or even suspend payments. The White House announced in late March that federal student loan payments would be suspended for 60 days or possibly longer. Interest would not continue to accrue during this period, as it would if you obtained a forbearance. Contact companies and lenders for specifics on your situation.
5. Try to Make Credit Card Payments On Time
The coronavirus pandemic is not the time to focus on paying down debt. Basic expenses must come first. Still, it's important to continue making on-time payments on credit cards even if you can't pay the full amount. Approximately 68 million Americans have poor credit, so you'll want to do what you can to protect your credit score. If you can't make payments on time, contact your credit card company. Many institutions are eliminating fees for late or missed payments. These breaks aren't automatic, so you'll have to contact the company to ask about your options.
6. Don't Sell Your Stocks
All of the recent ups and downs of the stock market might prompt you to consider selling stocks to reduce additional losses. But if you make this move, you will only lock in the losses you've already experienced. Instead of selling, remember that if you hold back now, the market will improve at some point in the future. On the other hand, it's a good time to buy stock in solid companies offering stock on sale. As long as you have a solid emergency savings account and you're paying basic expenses, you can use whatever funds are left over to buy stocks and diversify your stock portfolio.
7. Continue Saving for Retirement
If you're concerned about losing your job, you may not be thinking about retirement if it's decades away. But this is a good time to continue adding to your IRA or 401(k) if you can. Whatever you can put away for retirement now can be used for discounted investments that might eventually earn a great deal.
The coronavirus pandemic is a frightening time for most of us, whether we're afraid of getting sick, fearful of financial disaster, or both. But we don't have to sit back and feel helpless. Just as there are ways to protect ourselves and our loved ones from the virus, there are concrete steps we can take to secure our finances. Budgeting wisely and assessing your money situation will help you survive these financially uncertain times.