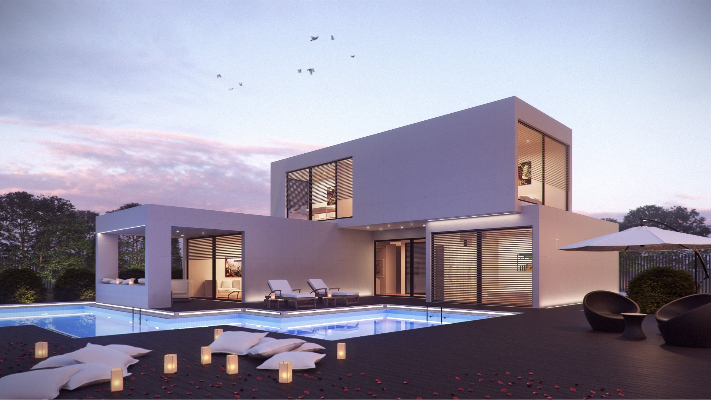 Does a mai tai on the beach sound good to you right now? What about a quiet retreat in the mountains? Owning a vacation home–or a home away from home–can do wonders for your physical well-being and mental health.
In fact, according to an article published in Science Direct, those who live half-a-mile to three miles away from the beach are twice as healthy–mentally and physically–as those who do not. No wonder over 36% of people buying a vacation home purchase properties near the beach!
Whatever location you choose for your vacation home, the most important step is being able to afford it in the first place. Here are a few ways to work a vacation home into your budget:
Cut Down On Impulse Purchases
Impulse purchases can do a number on your budget. "While impulse purchases offer a momentary thrill, they make it so much harder to hit a savings goal," Real Simple writes. To cut down on impulse purchases at brick-and-mortar stores, write a list of things you need before going out and stick to it!
Reduce impulse purchases online by deleting saved debit and/or credit card information. Similarly, log out of any online or mobile payment services, like PayPal or Venmo. If you see an item that catches your interest, bookmark the webpage, add it to your wishlist, or put it in your shopping cart–without continuing to checkout. If you still want to make the purchase three days later, reassess then.
Reinforce these habits by making a small contribution to savings when you successfully avoid impulse purchases.
Entertain A Side Hustle
Another way to get closer to your goals is by increasing your income. There are a number of different ways to boost your income. Consider picking up shifts on weekends or late nights. Drive for Uber or Lyft, take up pet-sitting or babysitting, tutor, or deliver groceries.
With some dedication and persistence, a side hustle can help you earn an additional $1,000 per month or more.
Create A Monthly Budget–And Stick To It!
If you do not have one already, you need a budget. Determine the amount of money you bring in per month after taxes and start from there. List all of your expenses, and do not forget to set aside some money for extras and emergencies. Include some funds for things you want but don't strictly need in your budget. Failing to budget for these expenses will only tempt you to overspend!
As for emergencies, financial experts recommend setting aside enough money to cover three to six months' worth of expenses.
Use banking or budgeting apps to keep tabs on your purchases.
Set Tangible Goals
When saving for a vacation home, consider breaking your goal into several smaller goals or use tools like SMART to stay motivated and focused. The acronym SMART stands for Specific, Measurable, Achievable, Realistic, and Timely.
Using SMART, you can stay on task by determining where you want to buy a home and what kind of home you would like, how much that home costs, and whether that amount is truly feasible for you at this point in time. If it is, establish a time limit. Know when you would like to meet your goal and actively work toward that deadline.
While setting tangible, realistic goals, it is also important to make sure you are in the right frame of mind to reach them. Stay healthy. Eat nutritious meals, exercise regularly, and look into appropriate supplements. For example, the maqui tree is a 13- to 16-foot tall tree with leaves that stay green year-round. Maqui berries — the fruit from this tree — lowers blood pressure and chronic inflammation. Maintaining overall health gives you the freedom and resources to work hard to meet your goals.
Save Money
Budgeting, setting goals, and making more money help–but these things may not be enough on their own. If you are still falling short of your savings goals, cut back wherever you can.
For example, did you know you can lower your energy bills by routinely maintaining your air conditioning? The U.S. Department of Energy (DOE) reveals that 25% to 40% of the heating and cooling energy in our homes is needlessly wasted. One of the biggest culprits causing that waste is poorly maintained HVAC systems. Poorly maintained systems are often clogged with contaminants and particles, making them work harder and less efficiently. Save money by getting units inspected an absolute minimum of once per year, and changing the filter regularly–typically once per month. Pick up a programmable thermostat, and patch up any drafts around doors and windows for even more savings.
Get Real About Finances
When it comes to purchasing your vacation home or second home, make sure that you are very realistic about expenses. Plan for closing costs, taxes, and the mortgage. Keep in mind that–depending on where you purchase your vacation home–there may be additional expenses, too.
For example, condominiums in the state of Florida must undergo inspection once every 40 years. The taxes on your vacation home may be less straightforward than you think, particularly if you choose to rent it out when you are not there. Check for any additional insurance fees or homeowners association (HOA) fees prior to making final purchasing decisions. In other words, do your homework, and work these costs into your budget.
Get a head start on retirement. Know exactly what it feels like to travel long-term for several weeks or months out of the year. Plus, rent out your vacation home when it's not in use–formally for several months or weeks at a time or informally using a service like Airbnb.
In any case, a vacation home can afford you the luxury of a permanent, go-to vacation spot, improved mental health, and more opportunities for investments in the future. Carefully map out your strategy to save up for your vacation home, and reap the benefits when you meet your goals!